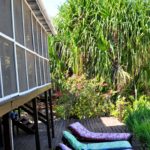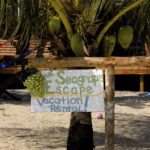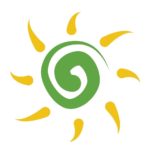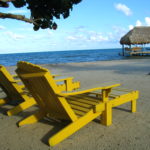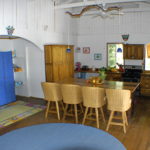 The Seagrape Escape 
is a 2 bedroom open-air designed house that has a wonderful, HUGE wrap around screened-in porch and a large beach-level deck.
INSIDE: Both bedrooms have private bathroom with custom tiled showers, A/C & doors that open to the screened porch. The house is equipped with wifi, a stereo & cable TV.
OUTSIDE: 2 outdoor showers, 'yard games', beach level deck, great climbing trees, Ping-pong table...
The house  can be rented with Casa Beya, the house next door, together they can hold 15. The 2 houses are connected by a funky bridge.
We are the ONLY vacation rental in Maya Beach that has a huge, part-shade, part sun DOCK-over-the-WATER!! 
This house is perfect for a couple, a family or a group of friends who want play on the beach, snorkel, kayak, dive, explore the ruins, hike in the jungle...
Come explore this remarkable country
while staying in this airy, spacious,
funky & functional CLASSIC beach house!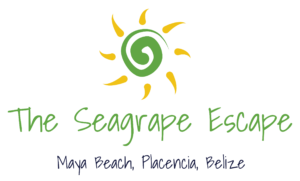 Exterior & Interior photos: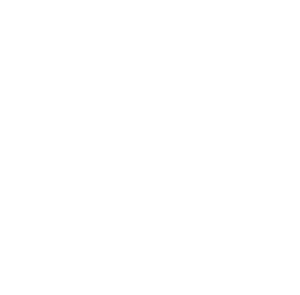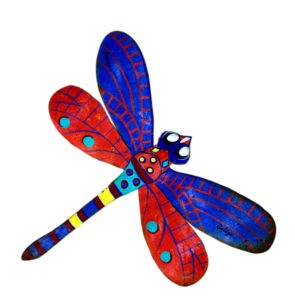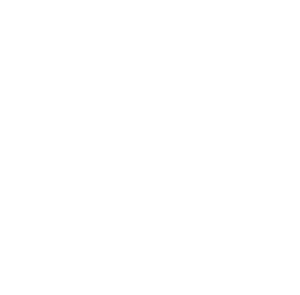 SEAGRAPE'S UPDATED CALENDAR:
SEAGRAPE'S RATES 2018 & 2019
Rates do not include the 9% gov't tax
HOLIDAY SEASON 
DEC 18-JAN 5    7 NT MIN    (NO WEEKLY RATE)
$350/couple, each add'l guest is $40
2 guests $350/nt
4 guests $420/nt
6 guests $490/nt

Kids (2-12) $35/nt     

Guests 7th & 8th @ $35/each: will be on pull-out couch in living room
HIGH SEASON  
JAN 6-MAY 31 & NOV 15-DEC 17       5 NT MI
Weekly rate= 7 nts for the price of 6

Monthly rate= 4 wks for the price of 3

Kids (2-12)= $25/nt, $85/wk

Guests 7th & 8th will be on daybed/pull-out couch @ $25/nt or $85/wk 
NIGHTLY: $250/couple, each add'l guest is $30:
4 guests= $310/nt, 6 guests= $370/nt
WEEKLY: $1500/couple, $175/add'l guest:
4 guests= $1850/wk, 6 guests= $2200/wk
MONTHLY:  $4500 for 1-9 guests
LOW SEASON 
(aka WET Season)  JUNE 1-NOV 14        5 NT MIN
Weekly rate= 7 nts for the price of 6

Monthly rate= 4 wks for the price of 3

Kids (2-12)= $25/nt, $85/wk

Guests 7th & 8th will be on daybed/pull-out couch @ $25/nt or $85/wk
NIGHTLY: $180/couple, each add'l guest is $30:
4 guests= $240/nt, 6 guests= $300/nt
WEEKLY:  $1080/couple, $120/add'l guest:
4 guests= $1320/wk, 6 guests= $1560/wk
MONTHLY: $3240 for 1-8 guests