The Seagrape Escape booking management has moved.
It is now managed by:
info@flowerspropertymanagement.com
or info@seagrapeescapebelize.com
So, please enjoy all of the pictures & info here on this site, but when it is time to book, please use the above contact information.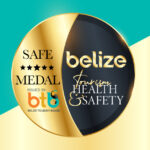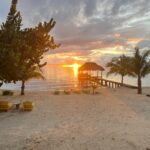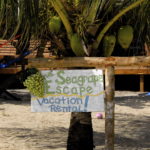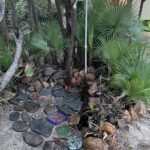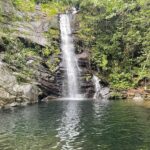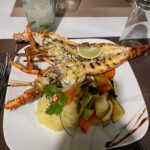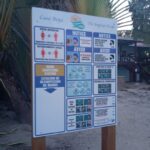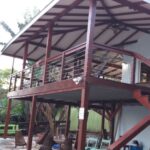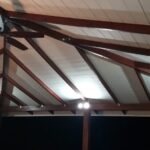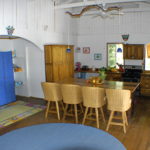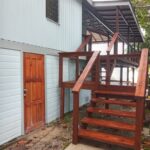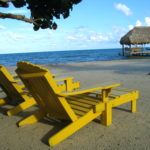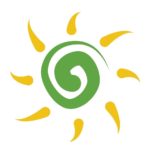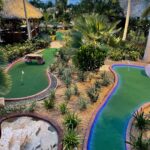 is a 2BR/2Bath, open-air designed house that has a newly remodeled wonderful, HUGE wrap around porch. 
INSIDE:
Both bedrooms have private bathroom with custom tiled showers, A/C & doors that open to the porch. This allows the sound of the waves to lull you to sleep. The house has everything you'll need: a fully equipped kitchen, AC in both bedrooms, fans throughout, wifi, a stereo & cable
OUTSIDE: Hammocks, Sun loungers, Yard Games like Cornhole & Ladderball.
This house is perfect for a couple, a family or a group of friends who want play on the beach, snorkel, kayak, dive, explore the ruins, hike in the jungle....
The house shares a dock, bikes, kayaks & SUP's with the house next door.
Come explore this remarkable country while staying in this airy, spacious, functional CLASSIC beach house!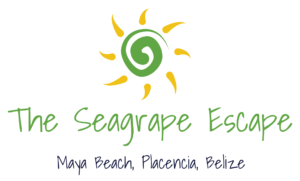 Exterior & Interior photos:
Please note:
The newly remodeled porch is no longer screened-in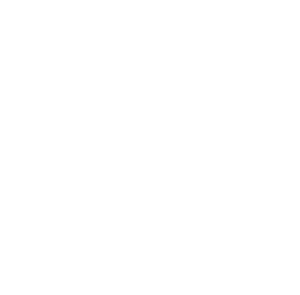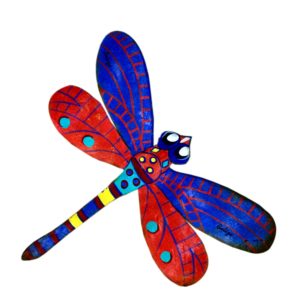 Ready TO BOOK the trip of a lifetime?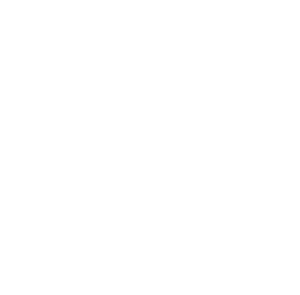 SEAGRAPE'S  75

+

   

Guest Reviews:
Reviews are now collected on VRBO. 
2009-2018:  

These reviews were submitted to TripAdvisor/FlipKey over the years & copied here.             
(we are no longer collecting reviews on Trip Advisor) 
PERFECT amount of R&R & adventure!
SEAGRAPE IS IDEAL! the huge porch is a perfect retreat in the heat of the day or during the periodic rainstorms. The kitchen has everything you need to make a nice dinner or a frothy rum drink! It was so nice to have beach towels to use as well as the amazing Paddle Boards! Martin & Diana are really helpful and added so much to our stay. We will return again as soon as possible! (and because it is so reasonably priced, it will be very SOON!)   ----Stayed: April 2017 Coloradobeachbound Colorado
****************** Thank you so much for your enthusiastic review of The Seagrape Escape!! I can't tell you how much we appreciate the GREAT feedback and your review will really help us market the house on Trip Advisor! We hope you can return to Maya Beach & Seagrape very soon! Thank you! Thank you! Thank you!
Peace and Warmth
We have all grown up with special memories of special places. The moment I walked onto the property and into the Seagrape Escape beach front home, wonderful memories of cottages and cabins and the warmest homes flooded back to me. I felt at home ... like I'd been there before. The huge indoor living room opens to the kitchen and sharing a giant dining island, all begging for gathering and games and naps and families. The giant screened porch does the same .... a peaceful and warm space ... and then a massive deck below. Seagrape could be placed anywhere on the globe and make my vacation perfect, but it isn't just anywhere. Already in heaven, I walked across the perfect beach and to the end of the long dock out over he sea, scanned the ocean, laughed out loud, climbed into the hammock, and closed my eyes with the breeze. Places like this exist?  -----Stayed: April 2017  jrltelluride Placerville, Colorado
************ JRL- what a fantastic review! it gave me warm fuzzies and made me want to be at the end of the dock swinging in the hammock. I am glad you had such a wonderful stay & felt so at home! (that is exactly what I was going for when I designed it) please come stay with us again..... 🙂
Just what the doctor ordered!
We loved our stay at the Seagrape Escape. From the beginning we knew we were in good hands with Midge, who was super prompt in responding to all our questions pre-arrival. The house itself is perfectly located toward the north end of the Placencia Peninsula, where it's calm and quiet but still close to everything you need, like grocery stores and great restaurants. It's also right across the street from the bowling alley, which was a huge plus for our 6-year-old! The breezy layout of the house and the huge screened-in veranda made for the perfect way to fully experience the beauty of the Caribbean Sea, while the air conditioned bedrooms made sleeping at night incredibly comfortable. The dock, the numerous beach games, and the combination of shady and sunny spots to relax on the beach made this house the absolute perfect getaway for our family. We highly recommend it and hope to be able to come back very soon!  ------Stayed: July 2018 Colleen S San Ignacio, Cayo, Belize
************* Colleen- Thank you so much for your wonderful review! I love how you highlighted it is great for all ages: 6-96! When my son was young he LOVED working on his bowling techniques too 🙂 (still does!) Sure hope you can come back and play on our beach someday soon!
Relaxing Escape
First of all this is one of the most beautiful places on the planet! The beach is your backyard, great resorts and local food options just a bike ride away. The house has everything you need: snorkel gear, paddle boards, bikes, kayaks. And the water patio adds the perfect relaxing touch to looked out over the sea. I want to go back as soon as possible!      --- Stayed: April 2017 Rye L, Co.
This place was perfect!
This house was located perfectly on the beach within walking distance of a market and plenty of places to eat (Maya Bistro Hotel was our favorite). The ocean, beach, and dock were amazing. We had plenty to do at the house for our teenage daughters and went on excursions inland also. The house have everything we needed and we would highly recommend Placencia and The Seagrape!     ------Stayed: April 2017 Sunny C
AMAZING STAY!
Our family of 5 stayed for one week and their was plenty of room for everyone, the air conditioners in the bedrooms was a godsend since it was nice and humid. The pictures are exactly what you see when you arrive. Being right on the beach and it being so private was like a little slice of heaven. My grandson was able to swim right off the dock and really enjoyed using the kayak that was provided. There is also a ping pong table and a couple other games on the beach that we enjoyed playing. Everything you need is at the house all you need to bring is your bathing suit, some wine, sunblock and of course bug spray and you are all set. I loved the location of the beach house since it was so hot in the village being out of town and on the ocean gave us an amazing breeze which made it feel less sticky. We ordered pizza from the bowling alley a couple times, which was very convenient and was good pizza. I would definitely stay here again and already told my friends about the house and how to book it.     ------Stayed: April 2017  w00ley Los Angeles, Cali.
Perfect "homebase" for you Belize adventure
If you are wondering if it is possible to find a place to stay with your family that has
everything you'll need? Well look no further. Staying at the Seagrape is like coming home to your very own home in Maya Beach. Midge has the house stocked with everything from kitchen/cooking supplies to games, books, movies, townie bikes, kayaks, paddle boards, etc. It truly was the perfect place to relax and enjoy the ocean with our tween and teen. Will certainly be going back again!    -----Stayed:  March 2017  arbraudis Carbondale, Colorado
We loved our time in Belize at The Sea Grape Escape!
Our spring break family vacation at The Sea Grape Escape was one of our best family vacations of all time! The house was a perfect set up for our family and we used the kitchen and screened porch everyday. We loved the dock and the hammocks and the games on the beach. We used the paddleboards and bicycles and were never ever bored. If your family loves the sea and relaxing a playing on the beach, you won't be disappointed with this place. Midge helped us with planning from the beginning and Martin and Diana were there for us with everything we needed from our arrival til the end, including running to the store to grab us a case of Belikin! I want to go back right now. We will return.     -----Stayed: March 2018 Kristina C
Paradise found!
Located in Maya Beach north of Placencia town, Midge's house and hospitality were superior. We had stayed elsewhere but had to leave when a large tour came in and out went privacy and quiet. We came across Serape on our drive and were so lucky to do so! It is a classic summer house, comfortable and large. The condition of the house and amenities is good, with staff living on the property. If you expect more polish, then you will miss the "down-home" and real Belize feel. Midge was so accommodating particularly given our last minute need and it was paradise from there. Bravo Midge, and thank you!    ---Stayed: March 2018  jackwrainey Puerto Viejo de Talamanca, Costa Rica
******************** Jack-I am so glad it worked out for you to stay with us at the last minute & you could end your time in Belize on a GOOD note! It was such a pleasure working with you both and I hope you can come again, but next time stay longer! 🙂 Thank you for the upbeat & kind review!
This home was so accommodating for our family!
This is a great family hangout home with beach, water and adventure right out your door which allowed for our boys to always be busy enjoying the sun, fun, and all the amenities the house offered. The screened in porch with swinging bed was a hit for relaxing when needing a break from the sun as was the ping pong table! The kitchen is completely set up to cook the fresh lobster from Placentia with all the utensils needed. Our family of 5 could eat out at any of the many close restaurants or eat in on the porch table. The bowling alley directly across the street had the best pizza and the cinnamon rolls right up the beach were a breakfast hit. Martin and Diana went out of their way to make our visit to Belize a magical memory for our family! We truly could have just hung out at the house as the kayaks supplied lead the boys to snorkeling and adventures just off the beach. Midge was super helpful in offering suggestions for our family. Thanks for making our visit to Belize such a great experience!              ---Stayed: November 2017
Fabulous! Truly Paradise!
Stayed with my husband, and mother & sister. Each Bedroom has a small bath-Perfect. Giant kitchen/living area. Everything you need is there, including bottled water (which we really used). The place is rustic compared to a resort, but that's what we were looking for. Spent most of the time on the gigantic screened-in porch! Coffee in the morning, drinks in the evening-the ocean steps away-Paradise! Sunning in the morning on the personal dock, packed a lunch for adventure in the afternoon, out for dinner. Back on the porch to listen to the ocean til we got sleepy. Belize is beautiful-best vacation yet.     -----Stayed: November 2017 Tour685234
Cozy and Perfect!
How can I even say in a few words what a beautiful and totally perfect place this is?! The home is seriously right there on the water, with a perfect little beach all its own. The inside is open and airy and "beachy". The wrap around deck is all enclosed. The cabana out on the dock looks and feels like a picture postcard.
The owner provided all we needed to cook in the kitchen and to play outside!
I would love to go back- it truly was THE perfect location. And by the way, all other tourist sites are not far at all by car.
The people of Belize are so warm and welcoming and the ex-pats were also so fun to get to know. By the time we went home, we felt like we lived there. Thank you Midge for such a wonderful place in the lovely country of Belize!      ------Stayed: November 2017 Kerry H
All you could want from a tropical beach house!
We have stayed here two different times and spent 5 weeks there in total. It has everything you need, is extremely clean and comfortable, and truly difficult to leave. The house is stocked with games for all ages and the caretakers are extremely helpful.     ------Stayed: July 2017 CaseyKj Fort Collins, Colorado
Wonderful home
We had a wonderful spring break at Seagrape. Martin and Diana were very helpful arranging for excursions. Diana fixed us a wonderful meal one evening as well. We loved using the paddle boards and bicycles. Air conditioning is bedrooms worked great. No need for AC in the great room because of the wonderful breeze. Midge was also very easy to work with and provided lots of info/suggestions before our arrival.     ------Stayed: April 2017: Runrgirl1228 Louisville, Kentucky
So peaceful!
Had a lovely, relaxing visit at the Seagrape Escape. I especially enjoyed all of the thoughtfully appointed and beautifully landscaped secluded spots in and around the property that are great for hiding out with a book or enjoying some alone time. Just wonderful!     ----Stayed: April 2017 Katie S denver
 Amazing Home
I stayed at Seagrape Escape for close to 3 weeks. The first 2 weeks involved renting Seagrape along with Casa Beya for a group of 6. The last week of my stay was for 2 people. While we rented both houses for our group, I must say that Seagrape was the gathering place for everyone. The screened in porch is huge and absolutely amazing for hanging out and enjoying the view, not to mention a pleasant ocean breeze. The large, open kitchen is perfect for a group to fix a meal (a number of essential kitchen items are available). The dock is wonderful for relaxing and star gazing. The addition of paddle boards, rafts, and kayaks was greatly appreciated and added to our adventure. This home is fantastic for a small group, especially when you can rent Casa Beya next door for additional space. I can't forget the best part of our stay: Martin and Diana (caretakers). It was great having these two help us to plan outings, find guides, offer advice, and just hang out to chat. They really helped to make our trip even better. I highly recommend Seagrape Escape if you are looking for relaxation, an amazing view, a spacious house, and the ocean a few steps away.     -----Stayed: May 2017 ajeffers1515 Bowling Green, Ohio
Perfect porch for relaxing with family
We could not have picked a better spot for our girls trip in Placencia. The house is quite and there is a huge screened in porch that is perfect for the family to gather. The bowling alley is across the street, be sure to get a pineapple and basil pizza. There is also a market within walking distance with plenty of drinks and other items you may need. I hope to make it back to this area, just to stay here again.    ---Stayed: May 2017 Wendy D
*********  Wendy, Thanks for the SHOUT-OUT to our amazing beachfront, screened porch! Come back anytime!!!
Placencia Paradise
This home has it all. Beautiful screened porch overlooking the ocean, fabulous kitchen that is perfect for entertaining, and the caretakers are lovely, helpful people. I would definitely recommend this vacation home.               ------Stayed: May 2017 jwwebdesign Bowling Green, Ohio
Our gathering place
We rented both Seagrape and Casa Beya for six individuals so we could all spread out and have our own space. It worked out perfectly. Having the adjoining houses we used the huge screened in porch / living space as a gathering point to play games, lounge , get organized and in general, relax.
We were fortunate to have an excellent paddleboarder along with us and she taught the rest of us techniques of staying up! There were enough paddle boards for the six of us. Also kayaks we used regularly.
Martin and Diana were excellent caretakers. They helped us navigate the peninsula and beyond. They were always on hand and made our stay safe and comfortable.
I can't say enough about the wonderful memories that we created there and having the two houses made it even more special.      -----Stayed: May 2017 onthao Bowling Green, Ohio
Relaxing wrap around porch with a constant breeze.
Seagrape Escape has been a wonderful experience. We watched the ocean from the porch and the thatch covered dock for hours on end. We had a buddy from home for two weeks and there was ample room for all of us. We enjoyed making meals in the large kitchen, kayaking to the nearby island and snorkelling, learning how to paddle board and many other activities. We visited many Mayan ruins; Xunantunich, Cahal Pech, Lubaatun, Nim Li Punit which are all so different and amazing. We enjoyed waterfalls at the Mayan King and Maya Centre and went fishing and snorkelling with Happy Go Luckie tours in Hopkins. Our favourite dinners were at Maya Beach Bistro and lunch and drinks at Tipsy Tuna. Midge was wonderful and Martin and Diana took good care of us. We will definitely remember Seagrape, Placencia and Belize.       ---Stayed: March 2017 over602016 Ottawa, Canada
The Seagrape is now our family's most favorite beach house experience EVER!
This was our first visit to Belize, and staying at The Seagrape made our stay PERFECT! The porch overlooking the sandy beach and waters was absolutely the most peaceful and beautiful sight we've ever experienced in a rental home. The care givers overseeing the property, named Martin and Diana, were the kindest couple and we so enjoyed getting to know them. Everything about the house was comfortable, clean and convenient. We also loved the area, the local people and culture, and amazing surrounding environment. Two Thumbs Up!    ------Stayed: December 2016 Stacy M Franklin, Tennessee
Great escape
The location is amazing and the amenities even better - everything you need for a relaxing Caribbean vacation. Paddle boards, masks, beach towels, and a private beach and a dock- provided for the guest's enjoyment. Screened-in porch with a swing bed is the best for morning coffee and dinners.    -----Stayed: August 2016 Djurdjica C
GREAT! Vacation
Just returned from a week at this wonderful vacation spot. Loved the house and the perfect location. The beach was beautiful and well maintained. The house was very comfortable and had all the necessities. We loved the porch and spent every morning enjoying the beautiful views and ocean breeze!
Our initial issue was quickly and efficiently resolved. Martin & Diana were very attentive throughout our stay.
Would highly recommend.     ------Stayed: July 2016: sddelvecchio Cranford, New Jersey: traveled with family
Absolutely amazing, best vacation I've ever been on!
This house was absolutely stunning! The view of the beach was to die for. The house was secluded so it felt like you have your own private beach and the beach was kept very clean by Martin and Dianna (caretakers). Martin and Dianna were so helpful and accommodated every need! The palapa and porch is where we spent most of our time and it was awesome waking up to the waves crashing against the shore every morning. Honestly, this was the best and most peaceful vacation I have ever been on and I can't wait to return next year!     -----Stayed: June 2016: JoleneMcAlister
Paradise
The house was beautiful, everything we needed was there or all we had to do is ask. It's close to everything we wanted to do - or nothing at all, just sitting reading a book in the hammock.     -----Stayed: April 2016: A FlipKey verified reviewer Providence, Rhode Island
Paradise, at an affordable price!
Seagrape was a perfect escape for my partner and 9-year-old son--both incredibly romantic and totally kid-friendly. The setting, right on a beautiful beach, is unbelievable. We got to watch gorgeous sunrises and moonrises over the water. The photos don't do justice to the house--it has a huge open kitchen/living room and best of all, a screened in porch that goes the length of the front of the house and wraps around the sides (love the hammock and swinging bed!). We took the house kayaks and explored the little mangrove island in front of the house (a little further than it looks), and took the house bikes into town (too far, as Midge warned, but a fun adventure anyway), and made fools of ourselves on the house paddleboard. We also took day trips to snorkel the reef at the incredibly beautiful Silk Caye and to explore the rainforest at Monkey River and to see manatees. All this for the same price or less than we would have paid to visit Florida. Book this trip before everyone finds out about it and the prices go up!!    -----Stayed: April 2016 A FlipKey verified reviewer Barrington, Rhode Island
Awesome
I rented both houses for my extended family and it was awesome. We will come back someday. Lots of toys and the screened in porch was fantastic for the baby and for evenings hanging out playing games.     ----Stayed: June 2016: traveled with family
Lovely, secluded beach house
Great location in Maya Beach, we frequently walked along the beach to the Maya Beach Hotel for breakfast, lunch or dinner. Unfortunately the bedrooms are on the back of the house close to the road and Maya Beach is getting more and more traffic these days, so it was a little noisy some mornings. The beach side of the house is beautiful however. I loved the shabby chic of the screened in deck, and we spent pretty much all of our time either sipping our wine there or sunbathing on the beach!     0000Stayed: May 2016: A FlipKey verified reviewer San Jose, California: traveled with friends
Great Property
We really enjoyed the layout and amenities at Seagrape Escape. The home is clean without being too fussy, and Martin and Diana are great about looking after things. We do wish we had asked Diana to cook a meal for us, but just didn't plan well enough for that. The beach and dock are really nice and having the paddle boards and kayaks on hand is a great feature.    ----Stayed: March 2016 --- trails521 Woodland Park, Colorado: traveled with family
Wow, what an amazing experience!!!
The house was perfect. Martin & Diana were so helpful. They seemed to only be there when we needed them. Seagrape is our new favorite place to vacation.     ------Stayed: March 2016:  j0seph1949 Boise, Idaho
The most perfect part of our vacation
Had a week long girls trip with three of my best friends. Our stay was absolutely perfect. The screened in porch had a hammock, and lots of fun lounging areas and looks right out onto the beach. Mornings there are amazing. Though the beach is technically public, we essentially had our own private beach for the week. Kayaks and paddle boards were in great condition and the location couldn't be better. We rented scooters which took 20 min to get into the larger village. The house itself has everything you could possibly need- would 10/10 recommend!      ------Stayed: March 2016: BeatriceBaker Tulsa, Oklahoma:  traveled with friends
Perfect! Perfect! Perfect!
This vacation rental is exactly as advertised! if not better! The house may not be the most picturesque from the outside, but once you are inside it feels like a CLASSIC, comfortable beachhouse!
Seagrape has a wonderful open-air design, a comfy porch, beautiful beach and Artsy touches everywhere. Martin & Diana, the caretakers add so much to the houses with their attention to details, their housekeeping skills & grounds upkeep. It is such a family friendly house. My son loved climbing the trees, playing on the dock, hanging on the hammocks and reading on the Swing Bed! WE WILL BE BACK!!     ----Stayed: November 2015: Coloradobeachbound Colorado
Great stay, great location.
The Seagrape was an awesome home away from home. Mellow, easy, convenient, comfortable, these are the adjectives I would use to describe our stay there. Placencia is a fun town to explore, but honestly I'm not sure I'd like to stay there. However, having easy access to Placencia, all the while being able to have some privacy and a constant sea breeze at our house (Seagrape) was pretty great. And the best part for us was the Maya Beach Bistro within walking distance. Go there and ask for Cedric to wait on you and you'll not be disappointed by the food, or the service. We ate there 5 nights in a row. Midge and her crew were very responsive from booking, all the way through our stay.     -----Stayed: April 2015: Sam P Carrabassett Valley, Maine
Can't wait to go back
Had an outstanding time in Belize and staying at Seagrape Escape, such a great relaxing spot. Really liked the location and there were a number of restaurants within walking distance. Beautiful beach and it was great sitting under cover at the end of the pier. Nice selection of paddle boards and spent some time every morning out paddling.
The caretakers, Martin and Diana were very good about checking in with us if we needed anything but we never felt like they were hovering around. And when we did need something they were very happy to help us.
Great place and would love to go back again.        ------Stayed: October 2014: Sam P Carrabassett Valley, Maine:  traveled with friends
Idyllic getaway vacation
The Seagrape Escape is amazing. We traveled with our 2 adult children. We all loved the open layout of the home, the huge screened porch looking out to the sea, and the walkway to the thatch roofed pagado complete with hammocks. Our daughter absolutely loved that there was a queen size bed that was hanging on the porch. She slept there every night. Brian loved the hammock out by the sea. And we all loved the incredible restaurant that we could easily walk to. I couldn't recommend this place enough!      ----Stayed: November 2014: A FlipKey verified reviewer Boulder, Colorado: traveled with family
Wonderful
Fabulous week in a beautiful house. Paradise. We've stayed in many beach locations around the world but this is hard to beat.     -----Stayed: November 2014 A FlipKey verified reviewer
A few days of paradise
Fantastic house with numerous places to sit inside and places outside on the beach. The house next door was empty so we ended up with a private beach and our own jetty and it was very peaceful. It helped that we had great weather. There is a great restaurant nearby, the Maya Hotel, and the food is excellent. But we had a great kitchen, outside table to eat and an iPod player so it was also good to stay in. Would recommend staying here.     ------Stayed: December 2014  A FlipKey verified reviewer London, United Kingdom14:  traveled as a couple
Comfortable, breezy cottage on a lovely stretch of beach
I would definitely recommend the Seagrape Escape for families traveling to Belize with kids or extended family who want the flexibility of cooking at least some of the time. We stayed there for a week and the time flew by. Midge, the owner, was very helpful and responsive via e-mail. She is extremely easy to work with, and we were especially grateful that she sent us a detailed note with a map, guide to amenities, tips for traveling in Belize, etc., before we arrived. The house is not luxurious, but it is comfortable and clean with a fantastic large wrap-around screened-in deck. The caretakers, Martin and Diana, are very nice and as attentive (or not) as you want them to be. The stretch of beach in front of the house is just lovely, with two sea grape trees providing a bit of shade, chairs on the big deck (if you want to avoid the sand), and a great shared pier with hammocks, chairs, and a thatch-roof shelter. We were plagued by sea grass on the beach while there, which Martin tried his best to take care of, but couldn't keep up with. He kept the rest of the beach up very well, however, and we avoided the grass by walking out to the end of the pier and entering the water there.
The interior of the house was just fine for our family. Our two kids, ages 10 and 9, stayed in one room and we stayed in the other. We really appreciated the air conditioners in the bed rooms at night, but we were fortunate while there in that we had a great breeze every day that kept the house cool. We spent a lot of time on the screened-in deck, too. Most things were in good repair--we had a drippy faucet in our bathroom and a broken louvre in one of our bedroom windows, which prevented us from closing it all the way at night when we had the A/C on, but otherwise things were in good shape. There's a bit of noise from the road, starting early in the morning, but we live on a busy street in DC, so weren't bothered by it too much.
We were very happy with our decision to stay in Maya Beach. The house is not too isolated--it's a very easy walk to the Maya Beach Hotel, across the street to Jaguar Lanes, which we really enjoyed, and close to the Green Parrot, which unfortunately was closed the week we were there (warning about going in late August--some restaurants are closed). My husband made a few trips to the new grocery, which has the staples you need to get by if you don't want to drive all the way into Placencia village. We made use of the kayaks and inflatable floats. We never used the bikes, although we intended to. My son and husband played a LOT of ping pong, so it was great to have the table on the deck. We were not at all bothered by sand flies or other critters while there. There were ants at the ready to attack anything with sugar in it left out in the kitchen or on the dining table on the deck, and geckos in the house, but we were happy to have them there to eat the ants or any other bugs that might have made it in. We did lose power almost every day for a while, and water once too. The downside to vacationing in Central America, I guess. Overall, we had a great experience and a wonderful vacation!      ------Stayed: August 2014:  AdrienneDC94 Washington DC, District of Columbia
Great House
We rented the Seagrape house for 1 week with our 4 and 7 year old. It was a great vacation. The house was very comfortable to stay in. We made use of the kayaks, bikes, sand toys, snorkeling gear etc... The caretakers, Martin and Diana, are very kind. We had them cook dinner for us one night and it was great. Such a great price too. It's only $15us for a meal. We did some fishing on our own and they even cooked up the fish for us that night. They were even able to find us a bike for our 7 year old to ride. We would ride down to the grocery store fairly often to stock up or to other restaurants down the street. Great location being that it's close to Maya Beach Hotel and their food is so good. We really didn't end up using the kitchen as much as we thought since food is decently priced in the area. Was only a 15-20 min drive into Placencia. Highly recommend this house and we'd definitely stay here again if we ever go back to Belize     -------Stayed: March 2014 A FlipKey verified reviewer Longmont
Amazing beach and relaxing waves
We loved the gentle Caribbean breeze, furnished screened-in porch with a a full view of the beach the sea, and the gazebo at the end of the dock. The house included fun water toys for adults and kids, a full kitchen, sun deck and hammocks. The property care-takers were attentive and helpful.       -----Stayed: March 2014: D. Alcantara Colorado
Awesome! Beautiful location, great house, super housekeepers
Fantastic vacation get away, very cool beach cottage, wonderful beach, water, dock and cabana. Well equipped house with very nice house keepers. Perfect location for us, restaurants and convenience store nearby. Town and local tours short distance by car/bus/taxi. After 2 days, we were wondering if we could move there forever!      -----Stayed: March 2014: Drew WA USA
Best week of my life!
Our week at Seagrape became the honeymoon we never had -- comfort and relaxation, culturally engaging, beautiful water and landscape and wildlife, wonderful food only a 5-min beach-walk away. Heaven!     -----Stayed: March 2014: K. Cope WA
The Seagrape is a fantastic hidden gem.
The Seagrape offers so much more privacy than most of the rentals around Placencia. You may want to have a car to get around, but it was well worth it. The large screened in porch, a beach and large dock that you only have to share with the house next door, and abundant, lush landscaping was just what we were looking for in a beach get away. Stayed: March 2014 --- Sharon TX
Awesome
Awesome place to stay, The caretakers are very nice, very efficient & welcoming. It is close to Plecencia, only a 20 minute golf cart ride, so could go on day trips, but nice quiet location to relax.
We would recommend this to everyone.     ----Stayed: February 2014: Rick & Barb Canada
A 3 Star that could be a 5 Star with a couple changes
We enjoyed our stay at Seagrape but would have loved our stay there if a couple things were different.
The house itself sits on a gorgeous beach and is full of nice amenities such as paddle boards, kayaks, beach toys, loungers etc..The different birds we saw there were wonderful!!!
The open floor plan is very nice. Our two major issues were the uncomfortable King bed and the noise from the road.
The King bed was very uncomfortable, and I'm not picky. A simple mattress change would solve this. The Queen bed was more comfortable (we tried both) but the queen bed frame was very squeaky, even the slightest movement would cause it to squeak and move so it was difficult to sleep in. The King bed was less squeaky but much more uncomfortable than the queen.
The last two nights of our stay we slept on the day bed out in the covered deck. We wish we would have done that more. Smaller but the most comfortable.
Again, these could be simple fixes.
The other major issue we had was the road noise. All houses in this area are close to the road but that isn't the issue. There are road bumps all along Placencia to slow traffic down and unfortunately there is one of these right in front of the house. So your hear the cars/trucks accelerating right outside your window which during the morning around 7 am it makes it difficult to sleep.
If you are an early riser this won't be an issue. If you go to bed early you would have the same issue. You can't fully close the slat windows completely so its like having them open. An easy fix with replacement windows.
If the bed issues and road noise was corrected I would have give this a 5 star. Its not fancy, but we enjoyed the house.The caretakers live below the house next door and they are great!
Sand Fleas are an issue in Placencia so prepare yourself for that if you are on the beach.
Midge is the owner and we had a very good experience dealing with her!             -----Stayed: January 2014: Kevin R. MI
********* Responded February 19, 2014---Thank you for your review. The King Bed now has a BRAND NEW, orthopedic mattress on it...so it is as comfy as can be! & we have worked on the Queen beds sqeek…sorry we did not do it sooner!
Amazing Belize Vacation Rental
My family and I spent Christmas and New Year's at Seagrape Escape, and were so happy with the location, amenities and service we received.
We loved having our own little beach with comfy lounge chairs and a cabana with hammock on a dock about 30 feet out over the ocean.
The house was spacious and airy, with a really cool layout, huge kitchen, and the screened in porch perfect for the inevitable rain storms. A cool hanging bed on the porch was hotly debated over each night- as everyone wanted to sleep out there!
Ping pong table, snorkeling equipment, stand-up paddle boards, and kayaks Seagrape provided were used every day. (There was some great snorkeling around the back of the nearby island that you can see from the dock. Kayaking to the island takes about 30 mins.) The caretakers, Diana and Martin, were lovely and gave us a true taste of the culture by bringing us some of their homemade rice and beans on New Year's Eve!
Avadon is an amazing dive shop nearby. They pick you up right at the house, and the instructors are total pros. Some of our group dove The Blue Hole and said it was the best experience of their life! My husband and I did the Discovery dive package and it was wonderful.
A couple hints- there are slim pickings at the nearest grocery store, so plan to do a big shop in Placencia, and bring specialty items from home. Also, the sand flies are vicious so bring lots of bug spray with you from home (it's very expensive to buy in Belize)- Deep Woods Off seems to work best. Use it every time you lay out, even on lounge chairs- I learned the hard way.     ------Stayed: December 2013: Alyssa C. MA
Gorgeous Beach Rental
The house was gorgeous, right on the sand with all the beach-necessary amenities you could ask for (snorkeling gear, awesome lounge chairs with comfortable cushions, paddle boards!!- those were the best, towels, etc etc). The best part by far, though a close tie with the huge wrap around screened in porch that looked over the beach and ocean, and the swinging bed on said porch, was the thatched roof dock/cabana that extended into the ocean. Complete with hammocks, this oasis was gasp-worthy beautiful, and really made you feel like you were in an exotic locale. I would come back to this house again and again. The housekeepers were so kind and so helpful as well!    ----Stayed: December 2013:  Melanie D.C.
Great house, Amazing sunrise, Beautiful beach, Wonderful time
The house and property are amazing. The kitchen is well equipped, the beds are comfortable and the screened in porch is simply 'the best'! If you are active, the road is perfect for running and/or biking.
Yes, there are sand fleas but there is also a great oil available at the Placencia pharmacy. 'Bye Bye Sand Flea' really does work. It is not expensive and applying it before walking along the beach prevents any bites.
Speaking of walking along the beach...it is possible to go for miles in both directions. The pelicans seem to enjoy putting on a show for those walking or kayaking by.
The kayaks, paddle boards, snorkeling equipment and bikes provided many hours of enjoyment.
Mike, the manager, lives on site. He seems to appear magically whenever you need him but also seems to disappear when you are wishing privacy. He knows the area and is extremely helpful. He keeps both the house and the beach spotless and is willing and able to assist in any way!!
The only disappointment was the food available in the local grocery stores. Fresh meat is impossible to find, but there is a good selection of frozen meat...and there is a good freezer in the house. It was surprising that fresh fish was also very difficult to find. Fruits and vegetables were available but not what I was expecting. I was looking forward to mangos and avocados but neither were available on a regular basis. However, this is related to the area...Not the house.
There are a number of local restaurants with good food and 'The Bistro' is great!!
Midge responds to any emails and requests quickly and Mike is onsite to answer any questions or fix anything that breaks.I have no hesitation in recommending Seagrape Escape. If you want a great house with a beautiful view of the sunrise, Seagrape Escape is for you!      -------Stayed: February 2013: A FlipKey verified reviewer Wiarton
A little piece of paradise
If you are looking for a private and relaxing spot to enjoy Belize, this may be it. The Seagrape is a nice beach front home, somewhat rustic but very clean and comfortable. Very open floor plan with covered porch, plenty of hammocks and lounge chairs.
The beach is nice, kayaks and paddle boards made for fun activities. We were able to arrange to have a boat pick us up at the dock for a day of fishing and snorkeling the outer reef. The snorkeling on the reef was the highlight of the trip, we saw everything you could image (coral reef, fish, turtles, rays, sharks).
We also went on the Monkey river tour, great eco tour. Bugs were not an issue at the house or on the beach.
The caretaker Mike was great. He arranged our tours, stocked the fringe, gave great advice and took care of any needs. You really don't need a car. Mike will drive you to town, etc.
100 yards down the beach is arguable the beast restaurant in the area. We ate all but two dinners there, the two we didn't, we wished we had. We had friends rent the house next door. Great fun for large gorups with the houses being side by side.      ------Stayed: January 2013: mreeve11 Ohio
Nothing fancy about this place
Rented Seagrape Escape in Feb 2012 with my husband & another couple. First, we chose to drive down from the airport-wouldn't do that again. Took 3 hours. Got to see the countryside but makes for a very long day. House is basic-not fancy but practical. Mike was great & made us feel welcome immediately. Spent our mornings having breakfast on the screened in porch. House is right on the beach. Water wasn't good the week we were there so didn't get in--looked dirty. This isn't the Caribbean so don't expect to snorkel here. Had dinner next door at Maya Beach Hotel which was excellent. Rest of the week we drove down to Placencia every night (about 20 minutes) but had excellent food--particularly Secret Garden (ate there twice). And Tutti -Frutti is OUT OF THIS WORLD! Went every night. Tried to use the kayaks at the house but weren't safe. Didn't use the bikes or ping pong table. Items in house were in working order. Didn't use TV or stereo all week. Mike arranged our trip to Monkey River which was great. He also made sure to tell us when there was a python in the arbor at the house next door so we could see when they removed it. All in all, glad we went & the country is beautiful but it is so spread out there is no way to see even a 10th of it in a week. Pick a district & concentrate on that. Also, appears to be areas that are very poor as we explored off the beaten path & saw ladies doing their laundry in the river. Lots of houses/hotels started but nowhere near completed. Didn't drive to any of the ruins either. Enjoyed the time with husband & friends but wouldn't go back -- only because of how long it takes to get from point A to B. If you're going to Placencia---fly down from Belize City & rent a car there.    -------Stayed: February 2012: BeachLovers9 Pennsylvania
Good value. Great location.
We absolutely loved Belize and would not hesitate to visit again. Seagrape Escape is a great location for beach and activities - snorkel, ruins, jungle, zipline, cave tubing, etc. The bowling alley right across the street has great food. Beach house was cute and comfortable, and as expected for the reasonable price. The extras needed a little maintenance - bikes had flat tires, outdoor shower not working, cell phone not working, holes in hammock, cable missing for DVD, etc. But these were minor inconveniences and not a big problem. The only negative thing about the property was the trash that washed up on the beach, which of course could not be controlled by the owner. Belize is a gorgeous country and there is so much to do. I highly recommend a visit.      -----Stayed: July 2012: Becky Kansas
Best vacation ever!!!!!!
Our family arrived at Seagrape Villa 2 weeks ago and spent the best 8 days together on vacation. Mike was very helpful and pretty much stayed unseen so we could really enjoy our vacation. If you haven't been to Belize, just understand they have a slower pace in life so no one is ever in a hurry. All we did was relax and enjoy the beach. Thanks Midge, see ya next year!        -----Stayed: July 2012: Jamila C Houston, Texas:  traveled with family
Excellent beach vacation? -- You bet!
This isn't Hawaii, but rather a more relaxed, laid back, and less crowded version. Seagrape Escape is perfectly situated while not being too close to town. There is plenty to experience without the need for vehicular transportation.
Mike, your "concierge" and facilities manager, will be your best friend throughout your stay. He's a great cook, personal shopper, tour organizer, and always available. Take advantage of all that Belize, Placentia, and the Seagrape Escape have to offer. You will not be disappointed.       ------Stayed: February 2012: Mr. T Oregon
We can't wait to come back!
I really don't know what to say that will do justice for this place - what a wonderful way to spend a week in Belize! The house is roomy, colorful, and so cozy. Full of games, books, and fun little accents that make it feel lived in, and the fully-stocked kitchen is great (we really enjoyed the blender, great for margaritas)! Mike, the caretaker, is right there for anything you might need. Lots of privacy and the dock off the beach is awesome, we also spent a lot of time in the swing-bed and hammocks. 🙂 If you're looking for laid back and charming, this is the spot.       ------Stayed: February 2012: Relaxed in oHIo OH
A little slice of paradise!
As if it wasn't good enough that we were staying in the beautiful country of Belize, the accommodation we received at the Seagrape Escape made our vacation a stellar experience. The house was in a good proximity to the tourist-y locations in southern Placencia, but far enough out that it was indeed an escape. You had the option of driving into town to browse the local stores, or staying back in the house and enjoying the screened in deck or sitting out on the dock in a hammock. Mike, the house caretaker, was very helpful and friendly. If we had any questions or concerns he went out of his way to make sure they were answered or dealt with. He also helped us plan a snorkeling trip and was extremely helpful and timely. All in all it was a great experience!         --------Stayed: January 2012  ---  hayley noele MN
The spaciousness, Mike and beach were excellent but the applianc
Loved our afternoons on the dock and in the screened porch. Excellent area with driving access to many attractions. The house needs repair to really provide a family what it needs for the price charged, the oven doesn't work, the electrical sockets pull out of the wall, a towel rackfellout of the wall. Some lights dont work. No barbecue tongs or decent knives. But Loved the swinging bed on the porch and beautiful view.      -----Stayed: December 2011 A FlipKey verified reviewer Cincinnati
Month stay @ Seagrape
Overall, a good house that is acceptable for a family. Beach front location is perfect for simple holiday's. House has open design allowing for family interactions. Bedrooms are comfortable and air conditioned. Outside shower is very nice and patio is perfect for sun or shade... Recommend bring bug candles - we had some shipped to us mid stay and helped tremendously.
Please note - the location is far from town and any real shopping. The small chinese market is the closet thing there to house. Going into town is not walkable, and a long, hard bike ride. Going all the way to Placencia is definitely a workout. The local eats is good but anything more than a week and it would become repetitive. Recommend a car, definitely if you can afford it.      -------Stayed: July 2011: LawyerMilloy TX: traveled with family
We saw:
We saw manatee, stingray, fish, birds, iguana and the most beautiful sunrises from our wonderful beach house -the Seagrape Escape. This was our second trip to the Seagrape Escape house in Placencia, Belize. We loved it so much the first time in 2010 that I broke one of my own rules never to see the same place twice (if you can help it)! Belize is so beautiful, the house so comfortable and easy - I absolutely love it and even want to go back a third time. What makes the stay the best is Mike, the caretaker and neighbor. He is so professional, knowledgeable and kind. Your very own "local" to ask any question about how it works in Belize. Being new to a country leaves a lot up in the air: what to do, who to trust? Mike takes all the guesswork out of your vacation. He is around as much or as little as needed. Mike knows everything and everyone and is happy to share all his knowledge. He sends you in the right direction every time for tours, dinner, fun! The house is perfectly located on your own beach and I've never been so relaxed! Just knowing you have a friend next door is priceless! We travelled with another couple during the first visit and our younger children the second visit. The house was perfect for both vacations. Every morning I would head out to the dock to enjoy the view. We kayaked, swam and fished. Every night was spent enjoying the screened-in porch listening to tunes and loving life. We loved everything the Seagrape has to offer. I even got to meet the owner, Midge, and had a great visit with her while she stayed at the Casa Beya. We stayed a month during the second vacation and talked to many guests staying at Casa Beya - everyone had the same thing to say - "Can you believe this house? Can you believe this beach? Isn't Mike the best?" Well Belize it or not - I'm telling you this is the best house you can get to feel at home in Belize! Don't pass up an opportunity to stay at the Seagrape Escape!       -----Stayed: March 2011 A FlipKey verified reviewer Olds Alberta
Seagrape Escape was fabulous!
We spent one of the most relaxing vacations we've ever had at Seagrape Escape. We especially loved the screened porch and spent many hours reading and watching the surf from the comfy sofa and hanging bed. We watched the sunrise every morning, drinking our coffee. Mike was so helpful, driving us to and from the airport, starting us out with some provisions, securing a tour of the Monkey River, getting us into Placencia one evening and answering so many questions we had about Belize and our environs. He's a gem. The house itself was immaculate when we arrived and was kept clean for the week. We ate dinner at the local resturants--plenty within walking distance of the house. We especially loved the Maya Beach Hotel restaurant. We ate there three times. Thank you for making this wonderful home available to us.       -------Stayed: March 2011: Sweet Maggie OH
Seagrape Escape-Pure Paradise!!!!!
We just returned from our 2 week Maya Beach vacation and I'm still on Belizian time. The Seagrape Escape supassed all expectations and fulfilled all our wishes and dreams. The house was beautifully decorated, stocked with all necessities and more and Mike, your personal caretaker was the cherry on top!!! He made our trip extra special with his guidance, assistance and friendship. The grounds are lovely thanks to his hard work and attention and we felt safe and well looked after thanks to his caring way. He was there when we needed him yet respected our need for privacy as well. We can't say enough good things about this wonderful vacation destination and will forever cherish the memories we made in this little piece of paradise.       ----Stayed: January 2011:  Jurae Woodinville
Comfortable, Relaxing, Perfect
Seagrape Escape was the perfect house for me, my husband and 18 year old son. Lots of open space for the sea breezes, nicely decorated and stocked, and best of all - that huge screened in porch! Among the many awesome spots to relax, the swinging bed was a favorite. Mike, the caretaker, was awesome - he helped us book excursions, get provisions, was available whenever we needed something and kept the grounds and house clean. The restaurant at the Maya Beach Hotel and Bistro, just down the beach, is a truly special place and we just kept going back for the excellent food and friendly service. The location of the house is private, quiet and beautiful - the added plus of the nearby Bistro makes it just perfect.        --------Stayed: January 2011: Carol NY
A Fantastic Tropical Vacation
The house was roomy and well equipped. We had children-a seven year-old and a ten year old. They had great fun swimming, kayaking and riding bikes. We did not have to seek entertainment for them. The grocery store near the house was excellent and provided everything we needed--although some times I had to ask for what I wanted. The people working there were very friendly and helpful             --------Stayed: December 2010: Joyce NC
Peaceful with lots of Personality
We rented the Seagrape for our honeymoon in late November/early December. What we most enjoyed was the Seagrape's personality - open-air, beachfront living with all the amenities needed to really get comfortable and relax. The house is bright and colorful and has a great personality!
Mike was very helpful and was able to arrange several trips and excursions for us. In the house, there was a lot of information provided as well. We were not sure how remote we would be from some of the information online -- and we were pleased to find a basic grocery story, restaurant and even a bowling alley within walking distance -- since Placencia is about 10 miles away.
The weather was a bit rainy during our stay, but we still greatly enjoyed our time in Belize and will definitely head back again,        ----Stayed: November 2010: Williams IL
Wonderful home on beautiful beach - great for a family
I loved this house. My (now) husband and I rented this house as well as Casa Beya (next door), invited our closest family and friends to join us on vacation, and got married out on the dock over the water - beautiful place for a wedding. Seagrape has a great, big, open kitchen and living room - perfect for cooking a big meal. We had four women cooking in the kitchen, a couple friends mixing pina coladas, and several people lounging around the family room for our rehearsal dinner the night before the wedding - the setting was perfect for the event and we now have a wonderful memory of that home-cooked meal and lovely evening. Mike, the house caregiver, was so nice and very helpful. Everything was wonderful
Thanks, Midge and Mike! Maybe we will see you again for our 20 year anniversary 🙂    ---Stayed: December 2010: Alyse NC
The best VRBO house we've stayed at yet
We use VRBO for all of our travels - up to 5 per year in multiple countries in multiple geographies - this was the best one yet. The house was open and airy as you would hope for in a beachfront stay, yet totally screened from the bugs and other elements. Inside was spacious and clean, and everything worked. The pack n play allowed for a restful sleep for our 16 month old daughter, and the beach/water toys kept her busy in the day.
Mike, the grounds keeper, was more of our friend than anything else; he'll be as attentive as you need him to be.
Add a knife sharpener and a note in the directions that it's right across the street from the bowling alley for those arriving at night and I say you got it nailed 🙂          (I already recommended the place to my brother and sister in law who may be traveling in Feb)             -------Stayed: December 2010: Bill MN
You thought of everything!!
Great location, comfortable, tastefully decorated. Loved the huge kitchen. But the most important amenity was your onsite caretaker, (Mike) who was helpful at a moment's notice and added so many nice details to the wedding. Thanks. Judy        ---Stayed: December 2010 A FlipKey verified reviewer Florida
Your private back yard is a beautiful Caribbean beach with hammocks, calm water...
We had a fantastic time at the Seagrape Escape. We were 2 adults and 2 kids ages 11 and 13. Pictures can't capture how beautiful this location is. You have a huge screened in porch with an eating table, 2 couches, a hammock and a swinging bed. Everything overlooks the clean beautiful beach with soft white sand, picturesque seagrape trees and the blue Caribbean. There are 2 bedrooms-- one with a king bed, and the second with a queen and a set of bunk beds. Each bedroom has its own full bath (very cute tiles.) A huge open living room/full kitchen with a big island. Outside there are lounge chairs with nice cushions, and 2 sets of wood beach chairs, several hammocks, and a dock that stretches out over the water with a bench, swing chairs, Adirondack chairs, and more hammocks. You can read and hang out everywhere. There are a couple of good restaurants walking distance, as well as a small market. Mike, the caretaker, will help you as much or little as you want. He and his family are nearby all the time, which is good since the locks weren't working. The water is shallow. Deep enough for swimming, but very safe for kids. There are kayaks to paddle around in. One morning we kayaked to nearby False Caye for some beautiful snorkeling. You can also drive pretty easily to some inland adventures—hiking and even caving or tubing on rivers. Belize is a beautiful country with lots of outdoor adventure and kind people. The Seagrape Escape is a great place to be, and the roads there are easy to navigate.        ----Stayed: August 2010: anotherplace2go Boston, Massachusetts: traveled with family
Wonderful Way to Unwind!
Seagrape Escape gave us everything we wanted out of a beach vacation. The house was comfortable and open, the beach was well-maintained, the water was incredible, and the weather couldn't have been better. We were able to truly relax and enjoy our family. We loved that we were not in town, but close enough to venture in every several days for groceries. If you like to be close to a town, this is not the house for you. Mike, the caretaker, is a tremendous asset to this vacation home. He will take care of you.       ---Stayed: August 2010: A FlipKey verified reviewer Colorado:  traveled with family
Pure Bliss
At the Seagrape Escape, we were met by Mike and Melinda the caretakers of
the property. Not only are the a delightful pair, they are there to tend to your
needs daily whether it be a fresh coconut, laundry service, straightening of
house or as in my case, a delicious fresh whole fish cooked in banana leaves
and brought right up to our table. Yum!
Don't miss the chance to stay in this unspoiled (but counting) part of Placencia-
Maya Beach. A relaxing, beautiful spot with all the amenities.          ----Stayed: April 2010: Sistercarrie VA
Unforgettable!
The website pictures where great. But being there was incredible. At the end of our stay we had one regret: If we knew it was so beautiful, excellent service, very clean,…¸we should rented for a longer time. Next time!
But for a family of 6 like us, it was fun! the kids enjoyed it! & we felt safe with the area. There was plenty of toys, snorkeling equipment, etc., Thank you! The Leseigneur Family.---Quebec, Canada  ----Stayed: March 2010:  Leseigneur family Prov Quebec, Canada
Nine great days at Seagrape!
We had an absolutely wonderful nine days at Seagrape! Mike was a perfect host/caretaker, lots of attention when we wanted it...he
booked us a great snorkeling trip to Laughing Cay, and another exciting adventure to Monkey River (his little daughter Carissa is adorable), he also
showed the kids how to get into coconuts and gave us individual ones to drink from! We loved the house, plenty of screened in deck space accessed from both
bedrooms and a large above sand deck for afternoon lounging. The palapa was great for morning coffee, and an afternoon snooze and dabbling your
feet in the water in between swims or playing on the "floaties"! Hammocks everywhere! The kitchen was great for meals and the rice and beans we
attempted to make! It was a quick beach walk either direction for a drink or a meal. The little stores in Maya Beach were a quick bike ride away and Placencia provided an afternoon's entertainment walking and shopping on the "main street" and  sampling seaweed shakes. We liked everything except running out of vacation time!              ----Stayed: March 2010 A FlipKey verified reviewer Minnesota
Love at first sight
We loved the Seagrape Escape vacation rental! Every little detail was taken are of by the owners. As soon as you meet Mike, the caretaker of the
house at the airport in Placencia, we knew we were in great hands. When we walked into the house we fell in love with it. The cutest little cupboard
handles, the dolphin faucet, the extra strong blender (to make yummy frosty drinks), the screened in porch, the "Belize it or Not" tile in the
shower, the masks hanging in the living room, the hanging bed on the screened-in porch adorn with dreamy lights, the handmade tile mosaics
everywhere - we loved it all! I can't begin to tell you how at home we felt at the Seagrape. The first five days of our vacation we didn't even leave the
house and when we did we had to force ourselves to explore the rest of the country. As soon as we returned it was to head out to the beautiful dock or
screened porch. Midge (I'm guessing) did such a wonderful job of decorating the place for guest's enjoyment and relaxation. We also enjoyed
the bikes and kayaks. We paddled over to the mangrove forest and enjoyed the freedom to explore the area around the Seagrape. The only thing better
than the house was Mike and his family. We loved meeting them and visiting. Mike and Malinda's little girl is such a cutie. I can't wait to get back
to the Seagrape - I've already told our children they will be joining us next time. I know they will love playing on the beach, touring Monkey River
Town and seeing the Mayan ruins. I feel this is a very safe location for the whole family. Thank you so much Midge, Mike and Malinda for helping us have the
best vacation ever! Sincerely, Carla and Darcy, Cathy and Dean.---Canada        -----Stayed: February 2010: Carla Victor Alberta Canada
Serenity at the Seagrape
The service was incredible and friendly, with Mike and his whole family making us feel completely at home and comfortable. The Seagrape house itself had absolutely everything we needed plus so much more. The colorful and cute decorations, the wonderful cushioned sofas, the swing bed, the open "bar" in the kitchen, extra table on the porch for dinner, the bbq and of course the use of all the bikes, kayaks, snorkeling equipment and fishing gear, just took us over the top and made our stay extraordinary.
The location allowed us for some quality privacy but also kept us close to the hub of activity if we wanted it. The Maya Beach Hotel had some world class food by an amazing chef with all local flavours, and now a bowling alley opened right behind us which was perfect as it also had a bar and pub food.
Ultimately, there was absolutely nothing that we didn't like. EVERYTHING was so amazing,...we found it hard to even leave "our" beautiful home. The topper was having Mike cut us down some coconuts from our front beach and sipping on delicious coconut juice. YAY FOR US!!!
Thanks again for everything and we can't wait to come back! We might even bring the kids next time...ha ha!            ----Stayed: February 2010: cdhinnwr BC, CANADA: traveled as a couple
The Great Escape
My husband and I and our two boys (age 5 & 6 yrs) stayed here for 10 days and had one of our best vacations ever. The house feels secluded on the beach but is walking distance of a great hotel for dinner and drinks. We met a few neighbors renting a house just up the beach (visiting from Buenos Aires) and shared several dinners with them. One memorable dinner included a 30lb. yellow fin cavali jack our six year old caught on a guided fishing trip. Melinda, one of our hosts, suggested ways to filet the fish and with her help it was cut up and we threw it on the grill.
The setting is relaxing and perfect for kids...the house is stocked with kid friendly cups, plates and bowls, books and games. The boys loved eating their cereal at 'the bar' which opens up from the kitchen onto the screened porch. And I never worried about Pai & Finn playing in the water since it is shallow going pretty far out and the barrier reef means there is really no current and small waves. It was lovely to hear the surf though!
The house has about 37 different napping locations and since I slept for about the first five days we were there I think I found them all. A hanging bed, comfortable couches on the screened porch, several hammocks between palm trees, deck chairs on the sand but in the shade...they are all good. And there is shade so being of Irish descent I was very happy to find that I could be outside right by the water and watch the boys play while still sitting in the shade of a grove of palm trees.
We really enjoy traveling so when we consider where we want to go next we often opt to go somewhere we've never been before but we would definitely go back to Placencia and the Seagrape if we got the chance!           ------Stayed: January 2010: Kate Ill.: traveled with family
Perfect Vacation in Paradise
We spent 10 days at the Seagrape Escape and contemplated staying forever. Simply a perfect vacation. Seagrape was great for the entire family (we have 2 boys ages 5 & 6). Everything we needed was already there (including plenty of games, sand toys, kayaks, etc to keep adults and kids happy) so all we brought was our clothes (and packed light). Midge was awesome in helping us out before we arrived (in terms of planning and orientation) and Mike & Malinda (the on-site caretakers) were wonderful hosts (would do anything to help you if you needed/wanted, but otherwise gave us plenty of space to just relax). The layout of the house is wide open and spacious (the pictures on the website are great, but really don't do justice to how wonderful the house, decks and beach really are). Great place to do as much or a little as you want.         ----Stayed: January 2010: Eric Doesburg IL USA: traveled with family
A perfect setting
A beautiful beach at your doorstep, a dock to fish off of, a fully stocked home and a first rate restaurant just 100yds down the beach - what more could you ask for! Mike the caretaker is an added bonus as he's there to take care of all your needs. A truly incredible area to get away from the crowds and relax.         ---Stayed: December 2009: Wine Guy WA
Great house, great location, BUT....
The house is very comfortable for a family of four...right on the beach with great view...great kitchen to cook meals...wonderful decks...:15 minute ride
into neat town of Placencia...food at neighboring hotel very good...BUT one big drawback...We were there in Februrary so it might be a seasonal thing, but our
entire family was bitten from head to toe by sand flies and the bites itch!         ---Stayed: February 2009 A FlipKey verified reviewer California
Great time -- great value
The house was spectacular. We had a great time. No problems. We've been trying to get back since our visit. Sadly, unsuccessfully. Kitchen was complete. Placencia is a great little town. Rental car required.        ---Stayed: February 2009 : kenyon Texas