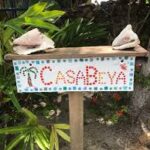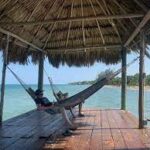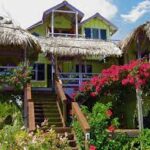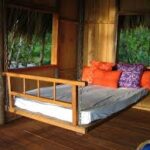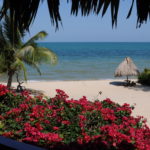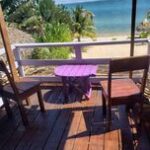 The name Casa Beya simply means 'Beach House' in Spanish & Garifuna. It is a vibrant, colorful,  partially thatched private retreat with a unique multi-level design! 
Inside
Is an absolute work of Art with it's hand-carved stairs, unique arches, bright colors, painted ceiling, and many special touches throughout. It has a fully equipped kitchen, IPod port & speakers, cable TV + Wifi!
MASTER BEDROOM
- Up a separate staircase
- 1 Queen Bed
- A/C & fans
- Private bathroom with shower
- Private beachfront balcony 
- Watch the sunrise from your bed!
DOWNSTAIRS BEDROOM
- 1 Queen bed
- A/C & Fans
- Private bathroom with - Bathtub with shower
- Located off living room
'LOFT'
- 1 Queen Bed
- A/C & Fans
- Up private, narrow staircase
- Lots of windows, very airy
Casa Beya will provide you with a fantastic place to stay while you visit a remarkable part of Belize!          
Come for your HONEYMOON! (BE IT YOUR FIRST OR YOUR SECOND) or simply a unforgettable Family get-away!!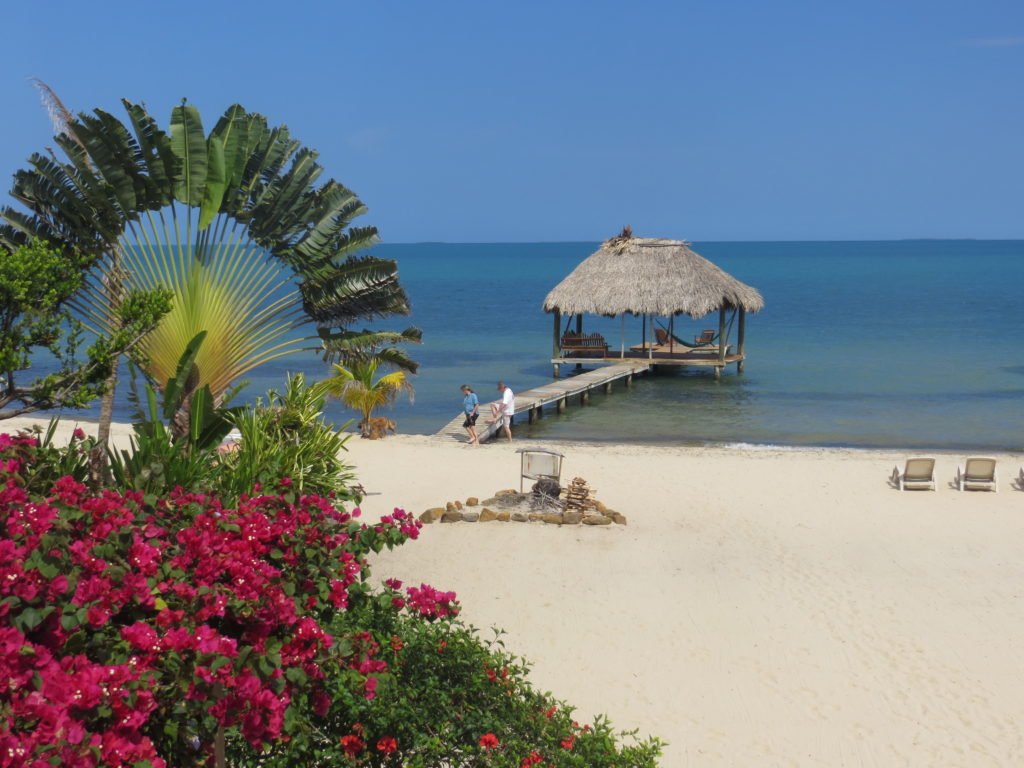 We are the ONLY vacation rental in Maya Beach that has a HUGE
part-shade/ part sun DOCK-over-the-WATER!!
Exterior & Interior photos: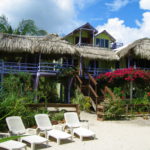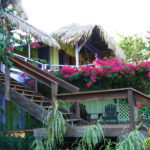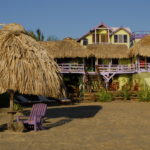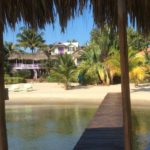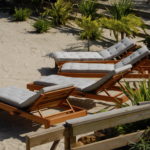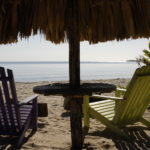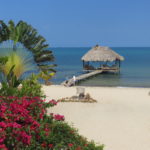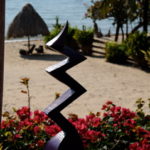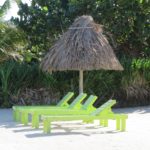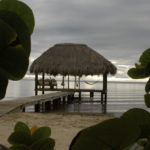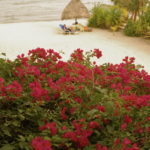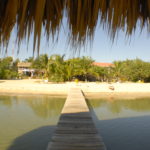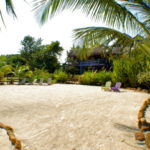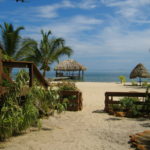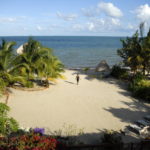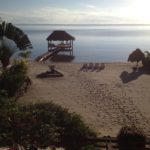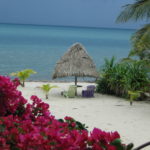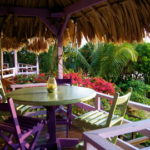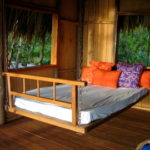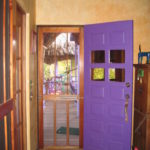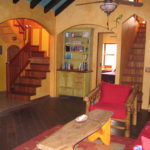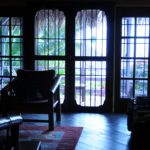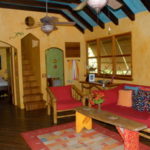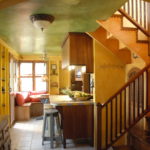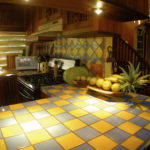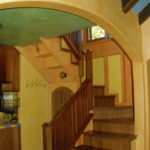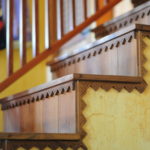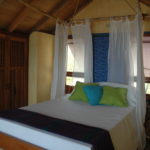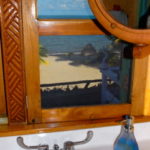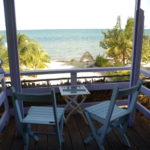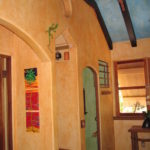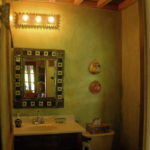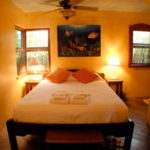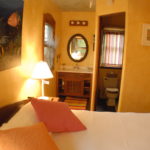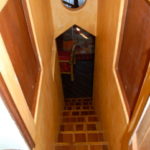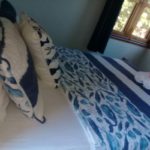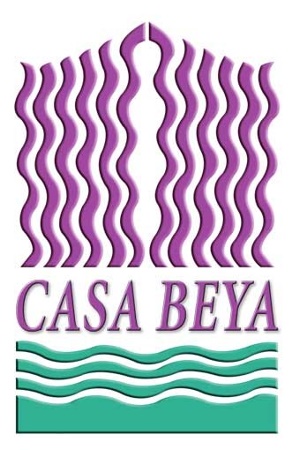 Ready to BOOK Casa Beya????
go to the "book Casa Beya" page
CASA BEYA'S 

80+

   

Guest Reviews:
(Reviews are now collected on VRBO)
2009-2018:  

These reviews were submitted to TripAdvisor/FlipKey over the years & copied here.             
(we are no longer collecting reviews on Trip Advisor)  
Belize 2018 
We stayed at CASA BEYA for 6 days the house is located close to the village but in a quiet area. The house has everything you need to prepare meals and bikes and paddles boards.               -----Stayed: September 2018: Rob B Freeland
Casa Beya is a perfect home to base a vacation in Belize!
We spent a week at Casa Beya and had a wonderful time. The ocean is just steps from the house! There are so many features that I loved.... the hanging bed was my favorite though. Awesome place to just lay there and listen to the waves and take a nap! The location of the house is perfect, in my opinion. There are restaurants close enough to walk or go into Placencia for more choices.
Booking Casa Beya was a breeze. Very good communication from Midge! We didn't get to meet Diana, one of the caretakers, but we did meet her husband, Martin. Very friendly and helpful. The house was spotless and very comfortable.
Just FYI, one week is not long enough! Next time we will definitely stay longer.      -----Stayed: February 2018: Jackie H 
A gem!
If you want a taste of Belize, stay at Casa Beya. You will love the eclectic beach house, with the best ocean front you could imagine. Amazing restaurants close by...within walking distance, who all care about visitors. The breeze off the ocean is a definite plus. It gets hot in Belize, but never at Casa Beya! Every morning we took an early morning walk to the dock & were lucky enough to see stingrays all settled in under the sand but have no fear, they will be gone as soon as the water turns a bit wavy, usually by 9:30 or so, when we were there. Then you can jump in and enjoy the warmest natural body of water I have ever swam in, and the softest sand. Don't forget to bring sunscreen & bug spray for the sand fleas. Diana & Martin were amazing & most helpful.     -----Stayed: March 2018: muscoka
**********M- Thanks you so very much for taking the time to submit such a detailed, glowing review about Casa Beya! It sounds like you had a wonderful stay. Was it your group that saw the family of Manatees right off our dock? I am so jealous! 🙂 Hope you can come stay with us again & thanks again for the enthusiastic review!
Amazing beach-front private home
Wow, we just lucked out with this place. Couldn't have asked for a better location and when do you ever get your own private beach??? We traveled with two teenage boys and they were non-stop paddle boarding, playing beach games or visiting the four-lane bowling alley across the street for a pizza.
Super comfortable everything (my favorite part was the outdoor hanging bed). Nicely stocked kitchen (although many restaurants within walking distance, including our favorite -- The Bistro). Staff onsite was fabulous. Communication in advance was very timely and informative. Nothing but positive to say about Casa Beya!         -----Stayed: December 2017: NorthStar628507
LOVED OUR STAY!
We chose Maya Beach as the first leg of a three part trip in Belize. Since my kids are too young to really snorkel, I wanted to find something off the beaten path a bit. The house is groovy with plenty of space. We dined outdoors most nights in the cool ocean breeze. Mosquitos were really not a problem at the house. But it is definitely buggy. There are sandfleas. But I would just cover myself in coconut oil at night and they left me alone. Bring Coconut Oil. Also there was quite a bit of wind when we went which isn't always the case. The water is bath warm so not refreshing and there were jellyfish. So we just walked up to the Maya Beach Hotel and had pina-coladas and swam in the pool. It was great! We paddle-boarded, we kayaked, we went into the town of Placencia where there is a nice bay, shallow enough for small children to swim.     -----Stayed: July 2017: feldmaner
Bring lots and lots and lots of mosquito repellent!!!
Placencia was beautiful. I love that the house was beach front and there weren't many people around. The people that live there and take care of the place, were great.
We went in July, so it rained the entire time we were there. Kind of a bummer. We were told the rainy season last about 6 months, so I would definitely avoid booking a vacation during that time. There were an insane amount of bugs, both inside and outside the house. There is a gear room, under the house, that has several floaties, wetsuits, snorkeling gear, bikes, kayaks and paddle boards available. We thought that was pretty cool.
We did rent a car since the house is about 3 hours from the airport, this allowed us to do some exploring. We visited bocawina park, about 45 miles away. It was $10 us per adult. Totally worth it. I personally could have spent several days exploring this park. We also visited Altun Ha Ruins about 30 minutes north of Belize City Airport $5 pp. Lots of fun.
If you are the type to rent a beach house and spend your entire vacation at the house, then I would definitely recommend this house. If you like to explore, I would recommend renting a car and staying at several places instead of spending your entire time at one rental home. Belize is pretty big and there are a lot of amazing things to see. For example, the huge Mayan Ruins are 4 hrs away. You can see monkeys (monkey river) 1 and 1/2 hours away. The zoo was 2 and 1/2 hours away. Everything was so far away....      -----Stayed: July 2017:  jessicaheav
---
February 1, 2018: Jessica, thanks for your enthusiastic & honest review. great tips! great suggestions! You mentioned a few places I have never visited, so thanks for that! It IS challenging taking in all of the amazing things Belize has to offer from the house. I agree you need a car and recommend hitting many of the sights on your way to the house from the airport & on the way back to the airport!! So sorry to hear your vacation was so soggy; July can be very unpredictable. (Some Julys can be bright & sunny!) Hope you can visit again at another time of year. Thanks again for your very detailed review.
Our gathering place
We rented both Seagrape and Casa Beya for six individuals so we could all spread out and have our own space. It worked out perfectly. Having the adjoining houses we used the huge screened in porch / living space as a gathering point to play games, lounge , get organized and in general, relax.
We were fortunate to have an excellent paddleboarder along with us and she taught the rest of us techniques of staying up! There were enough paddle boards for the six of us. Also kayaks we used regularly. Martin and Diana were excellent caretakers. They helped us navigate the peninsula and beyond. They were always on hand and made our stay safe and comfortable.
I can't say enough about the wonderful memories that we created there and having the two houses made it even more special.      -----Stayed: May 2017: onthao Bowling Green, Ohio
A perfect place to stay
I'm hoping to get back to Placencia just so I can stay here again, the house was amazing and the experience we had there was beyond belief. The caretaker Martin and his wife went above and beyond to make us comfortable. The Bowling Alley just across the street is a great place to get a pineapple and basil pizza.      -----Stayed: May 2017: Wendy D
Beach front
Loved our stay in this beautiful, fun and comfortable home that is right on the beach. Great restaurants just a few doors down in either direction. I seriously do not have one complaint, you can't go wrong with this vacation spot.           -----Stayed: June 2017: ninalimesand Lawrence, Kansas
Paradise paddler
Amazing! I definitely recommend this resort home. Very clean, comfortable beds, right on the ocean, and I learned to paddle board using the provided paddle boards. So fun!         -----Stayed: May 2017: jwwebdesign Bowling Green, Ohio
 The perfect base for Belizian adventures
First off this is not really a private house, granted the public doesn't have access, but there is a caretaker that lives in the house (separate quarters, in basement) and there were quite a few vendors that walked the beach.
That being said, this was the perfect house for our crew of six. We traveled around, went cave tubing, snorkeling, visited Mayan ruins and had several days to do nothing but sit on the dock and enjoy the ocean breeze.
The house was well equipped and roomy, also very unique in its construction, it was like staying in a tree house.The owner was very flexible when we needed to reschedule our trip due to an unexpected surgery.            -----Stayed: May 2017: Casey H Seattle, Washington
Another GREAT Stay!!!!
Arrived on March29 and stayed until April 22. Casa Beya had everything! Woke up every day to our very own beach, and coffee on the Palapa. Snorkeled at Ranguana Caye.... AMAZING! Fishing with Alwryn. Pick-up from our dock...wow! Monkey River tour and Banana Farm Tour. The weather was perfect. 1 day of rain in 23 days. Casa Beya is like living in a Treehouse. Everything we needed and more. Martin and Diana (caretakers) are there to answer and do anything for you. Check-out the website: Casabeyabelize.com. Already planning next trip!      -----Stayed: April 2017: JudyR5 Rockwood, Ontario
Fantastic Stay
One of the best vacations we've ever had. Belize was wonderful but this house was even better. We had our own deck into the ocean and paddle boards, kayaks and snorkeling gear to use. So fun. The house was clean with plenty of room. We actually never cooked there, not because the kitchen wasn't great but because just down the beach was one of the best most affordable restaurants I've ever been too. We just ate there every day. Perfection.        -----Stayed: September 2016:DavyRatchford
Terrifically Adorable!
Casa Beya was great. Read MUST at end. Caretakers Martin & Diana were willing to help with anything (phone calls, shopping, cleaning, cooking). Manager Midge emailed us a shopping list so we could stock the refrigerator. Kayaks, paddle boards and bikes! Decks, beach, hammocks & pier - great for lounging. The Maya Beach Bistro, just down the beach had the best food on the Peninsula: coffee, breakfast, lunch & dinner, and you can use their pool. Rumfish in town was also a good place to eat. For lunch and night life, Tispy Tuna and Barefoot bars. You do need a car to get around, not a golf cart. There was a grocery store nearby but the best fruit stands (selection) are in Placencia near Rumfish. If you want fresh conch, fish, lobster, head to the docks about 3:00. There is a great locally made jewelry store across from Rumfish. Recommend hiking Antelope falls in Bocawina Rainforest. We rented a car from Barefoot rentals, which was a junker and eventually broke down the day before we left but they were nice enough to give us a ride to the airport for our flight and not charge us for not refueling the tank. If you need a large car for many passengers, you may want to rent in Belize City. We needed a car for 7 and Barefoot was the only one who could provide one. If you are interested in scuba diving, I recommend you say in San Pedro on Ambergris Cay instead. The boat ride to the best diving areas off Placencia are 1 hour and brutal (the boat driver goes full ahead and you are pounding the waves). Diving/snorkeling the "inner reefs" is not worth the price. Don't sign up for a manatee tour unless it's in the lagoon. Seagrape house can be rental with Casa Beya for a larger group. It has larger rooms, a screen porch and ping pong table. You MUST take precautions against the sand fleas. I took vitamin B12 staring a week before the trip and was slightly bitten. The others in my group did not take it and WERE bitten and suffered. Regular bug spray does not work. Coconut oil does. Read online for what else works. DO NOT try to pick up the fruit juicer with it's top on. It comes off and the container falls and you spill all the juice! The kitchen was wonderfully stocked. I'm a private Chef so that is a great compliment! If you are into cooking, bring your own chef's knife. We would recommend this place and stay their again. Enjoy!       ------------Stayed: December 2016: JenJen024 Houston, Texas
PARADISE!
The Casa Beya was truly a tropical Paradise! Gorgeous home with a perfect location to enjoy the beauty of the Carribean and explore the amazing country of Belize. My family of 7 (including my 90 year old Mother) enjoyed every minute of our comfortable, relaxing, and adventurous vacation. We would love to return to Belize and the Casa Beya!!        -----Stayed: September 2016:  NolaY6
DREAM VACTION HOME & LOCATION
Pinch me!!! This vacation was perfect on every level!! If you have dreamt of crystal clear calm waters, views for days, family spot.... I HIGHLY recommend Casa Beya!
Myself- Megan (32), my husband- CURTIS (36), our daughter- Addison (8), and Son- William.... who celebrated his 3rd birthday while in Belize.... had the most amazing time EVER!!
Martin and Diana- We loved them!! They helped beyond belief!! Told us local flavor.... local villages to visit.... recommended the most amazing tour at IXCACOA - chocolate WILL save the rainforest!!
Recommended an amazing local spice farm.
I recommend renting an SUV.... main roads are great in Belize and can get you to amazing remote locations.... waterfalls etc!
The house had everything this momma needed to live and care for my family for 7 days.
We loved SUP boarding! My 8 year old and I swam with sharks, sea turtles, & sting ray!
Please go to this beautiful house! You WONT regret it!!!!        -----Stayed: October 2016: MeganLubbers
AMAZING
Fantastic, we had 14 people with 2 at 7 years old and a 15 month old. We rented both houses and it was fantastic. Martin and Diana were great as was dealing with Midge. I highly recommend Casa Beya or Seagrape (or both) to anyone. Nice supplies in the kitchen with tons of toys to play with in the water. It was a little buggy wear spray all the time, at least in June!     -----Stayed: June 2016: Gypsum, Colorado: Trip type: Traveled with family
FANTASTIC VACATION GETAWAY!
My boyfriend and I went to Casa Beya for the second time from late February to early March of this year and this time brought our 10 month old son. From the moment we were greeted of the plane by Martin and Diana they were incredibly hospitable and tended to any request or needs we had throughout the duration of our stay, including spending time with our son. Whether we needed to be driven quickly to the local grocery store "Ivy's" or into Placencia for shopping, touring, fishing, dinners/lunches etc, Martin and Diana were always available. If you want some great Pizza just walk across the treat to "The Jaguar" where they also have bowling for something fun to do as a family! All of the restaurants nearby have delicious food and relatively good prices. We frequented Maya Beach Bistro for their world famous "Cinnibuns" and to the Green Parrot or Mangos for TO DIE FOR conch and shrimp fritters! Yum!!!
Our bedroom and ensuite were immaculate and always replenished with the necessities we would expect from any 5 star all-inclusive resort we have previously been to in our travels elsewhere. With a young son, they provided a comfortable play pen with fitted sheets. Each room also had its own personal air conditioner, which personally I appreciated on the hot and humid Belizean days/nights. The kitchen was fully stocked with anything a family of three or would need, even with an infant. The Internet was consistent and the flat screen television had a plethora of channels in a variety of different channels.
Now I need to talk about the view. So many friends upon our return couldn't believe the pictures I was taking. They looked like post cards. There were a few days with overcast or periods of rain but the majority of our time was spent in the sun and enjoying the walk out to the palapa from the freshly raked beach that Martin proudly maintains at sunrise and the outdoor shower really makes you appreciate the beauty that you look out to.
My boyfriend went fishing with a man who was locally recommended by staff at the Jaguar Bowling Alley and it was such a wonderful experience and well worth the $150 (both in enjoyment and amount of fish they brought home for dinner!)
We will continue to make Casa Beya our yearly getaway with our family in the coming years! Our cottage in the Caribbean we will always call it!    Thanks again!        -----Stayed: April 2016: Jaclyn, Aaron and Baby Jack
Amazing, Beautiful, Family Friendly
Stayed for 10 days. Diana & Martin were amazing, always working and readily available whenever you may need something.
My husband and I went with his parents, brother & gf , their little 9mth old son, and our 21 mth old.
Such a great trip. The ocean view was spectacular. Restaurants within walking distance, via beach or road.
Martin kept the beach in tip top shape every day. The water was gorgeous and warm. Spent everyday swimming. Our son loved running up and down the beach. Great for kids!!
We did a snorkeling trip to Silks Caye, and the men did a deep sea fishing trip. There is a bowling alley and pizza right across the road.
Inside was so colorful and warm makes you feel like your home.
Definitely will be making another trip here. A great family friendly vacation hot spot.        -----Stayed: February 2016: Amanda R Guelph, Canada: Trip type: Traveled with family
Above and beyond expectations
Midge was a wonderful contact for us, especially when we realized how early our flight would arrive, she was ready to let us secure our bags etc until the house was ready. Martin and Diana were considerate and thoughtful care takers, checking in on us yet not being overbearing.
The house. It is perfect. That is all I can say. The kitchen is one of the best stocked rental kitchen's I have ever seen The beach, the dock, the water toys- all wonderful. Walking distance to Maya Beach Bistro for the peninsula's best food.
It is a distance to Placencia town. We originally rented a golf cart but that took us around 45 minutes to get to town. We exchanged it for a car so we could explore further and that worked for us. We definitely preferred being in Maya Beach to Placencia. As a matter of fact, we think we got the best location on the peninsula. We would definitely return there.      -----Stayed: March 2016: Hilacious Petaluma, California
Piece of paradise!
Well this has been our 5th time to Casa Beya! This time we brought our 2 sons, their wives and children. Ages 1 1/2 and 10 months. From the time we arrived Diana and Martin were wonderful. So good with Babies. The house was perfect! 2 travel beds waiting for the wee ones to sleep in and linens and blankets.
We stayed for 2 weeks. In that time we snorkeled at Silke Caye. Amazing! We also went deep sea fishing and had the boat pick us up right from the pier.
The house looks like a treehouse right on the Caribbean Sea. Very cute and colorful inside, just like pictures on Website. Many restaurants in walking distance. And you can go bowling right across the street. Beach perfect for little ones. Soooo much fun in the Sun! Definitely love this place. Will be back next year.        -----Stayed: February 2016 --- JudyR5 Rockwood, Ontario
Beautiful, exactly as advertised!
Loved my week in this beautiful home, right on the beach, a short walk to the Maya Beach Bistro with amazing food and atmosphere. Martin and Diana are delightful!      -----Stayed: February 2016: Simonratdog
Casa Beya was fantastic
We stayed for a week. Our party consisted of my wife, four children, my in-laws, and me for a total of eight. There was plenty of room other than we crammed four kids in a room with the twin beds etc. The house was clean and well-kept. The beach was fantastic as well as the pier. Their water toys and standup paddle-boards were in good shape. The kitchen was well appointed. Wi-Fi was reasonably quick for Belize. The location was good. I would have preferred to be a little closer to Placencia however it is only about a 10 min. car ride. We really enjoyed the deck and the view. The bowling alley and pizza across the street was a big hit with the kids of all ages from school aged to teenagers. We felt quite safe. The location was quiet - I am a light sleeper and noise really affects my sleep but it did not bother me at all.      -----Stayed: October 2015: chriswC5177EX: Trip type: Traveled with family
Beautiful views, friendly caretakers, safe and reasonably priced.
My family and I had a great time at Casa Beya. The house was clean and the managers Diana and Martin were awesome. I rented both houses while on vacation. My grand kids were in the water everyday. They loved every minute. The views were outstanding and I miss Maya Beach and Placencia. If you go, try out John the Bakers delicious meat pies, his sister sells the best coconut and lemon tarts across the street. They are in town in Placencia. We had pizza from the bowling alley across the street a couple of nights, it was delicious.        -----Stayed: August 2015: Carolyn J
Best Maya Beach Rental!
Wonderful rental and place to celebrate my wife's 50th birthday! Private dock and big shady porches to watch the sunrise. We will be back.        -----Stayed: March 2015: Steve N, Co.
Just Perfect, Like Home
My family (2 adults and 2 children) stayed at Casa Beya in August 2015. EVERYTHING YOU SEE AND READ ABOUT THIS LOCATION IS TRUE AND IS EXACTLY WHAT YOU EXPECT! It all starts with the communications with the property owner being timely and extremely thorough - I knew so much before I arrived, it really gives you a level of comfort and local knowledge. The house is just perfect - just like home plus the exceptional views! Martin and Diana, our caretakers, were genuine and always available whenever we needed them. Martin kept the beachfront raked (and might I add is quite a good wood worker!) and Diana was so helpful with the housekeeping.
The only disappointment we had is that the 8 days were over and we had to return home. Thank you for everything - love the home, love the location, love my memories with my family!
Thank you, thank you for the wonderful memories and we hope to be back soon!     -----Stayed: August 2015: Allison G Richmond, Texas
Wonderful place
We had a wonderful time at Maya Beach. The rental was very well located, with a grocery store a quick walk away, and the Maya Beach Hotel down the beach.
The house was beautiful and we had everything we needed!       -----Stayed :March 2015: A FlipKey verified reviewer Edmonton, Canada: Trip type: Traveled with family
Great, relaxing atmosphere!
We along with 7 other friends stayed at Casa Beya for 10 days. It was so relaxing along with so much to do! We went bike riding, paddle boarding, kayaking and walking on the beach and sitting on the dock with shade. Martin and Diana were there for our every need. We had pizza from the bowling alley across the road and 5 star dining just down the beach. The cottage was SO CUTE. The decks around the beach house were great to sit on for morning coffee or when you had enough sun. We had many hours playing in the water, even though it rained for a short time most days it was a quick shower and warm. Lots of fun at Casa Beya and would highly recommend it!      -----Stayed: March 2015: Cathie M Toronto, Canada
Paradise in your backyard!
We were greeted upon arrival by Martin and Diana. 2 wonderful and helpful caretakers. If you are looking for R & R this is the place. House is colourful and looks like a tree house overlooking the Caribbean Sea. It is our 4 th. Time here and would highly recommend it. Returning again in November. Restaurants in walking distance. Check it out!     -----Stayed: April 2015: A FlipKey verified reviewer Rockwood, Ontario: Trip type: Traveled with friends
Way to see Belize
Awesome house on the beach. Able to drive to see just about everything. If you have kids this is a Peter Pan experience for them!        -----Stayed: March 2015: A FlipKey verified reviewer Chicago, Illinois
We loved Casa Beya!
This is a great house. It is colourful and roomy, with wonderful porches. The beach was great, and we really enjoyed the town of Placencia. There is a lot to do nearby (snorkeling, hiking and zip-lining). We only noticed the early morning traffic on the first morning so it wasn't a problem. The care-takers were really friendly and helpful.         -----Stayed: Mar 2015: A FlipKey verified reviewer Fredericton, Canada
OMG AMAZING!!!
Where do I start? The ocean view, the nice private beach, the care takers all amazing. This place was our 2nd stay in Belize for our 2nd week. This place rescued our trip. It was HUGE and reminded me of a tree house, It would be excellent for a family or couple of families. The caretakers are on hand and give you a tour of the place and allow you to decide what room you want, we took the upstairs room with the french-doors that open up to a balcony viewing the ocean of course. There are a few restaurants in walking distance and Placencia and other restaurants a short drive away. It is right on the HWY but wasn't a problem for us…some noise but i live in a city and it was still quieter than what I live in, besides sleep with the door open and screen shut and the ocean takes over any other sound out there. The caretakers checked in on us daily and did housekeeping and for a small fee will do laundry as well. Martin raked the beach every morning before we were up. We had an issue with an smell coming from the shower drain but Marty did everything he could to take care of it, even called in someone to look at it and get it taken care of. This out does ANY hotel I have stayed at and would stay at this home again in heartbeat. I am hoping the gratuity we left was enough and reflected how pleased we were with their hard work. If you stay here you will not be disappointed. Our only regret is that we waited till the last day to take the stand up paddle board out on the water. Don't make that mistake you have free use of it, us it!        -----Stayed: January 2014: Alberta_girl76 Grande Prairie, Canada: Trip type: Traveled as a couple
Cooling breezes with beautiful view in rural southern Belize
Casa Beya was on the beach with long porches which catch continuous, relaxing breezes, making for easy unwinding for all family members. A five minute walk on the beach to Maya Beach Hotel with delicious but reasonable meals served on an porch facing the ocean. Casa Beya is for those who want to experience rural, beautiful Belize with famiies who have lived there for generations amid beautiful rivers, mtns, snorkeling opportunites, etc with helpful, knowledgeable local guides.      -----Stayed: April 2014:  Carole2014
Best Belizean Beach stay ever!
Fantastic home - tree house like with thatch roof. Lovely sunrises and swimming!        -----Stayed: March 2014: Novy family, Co.
Amazing Spot
This funky house has everything you need to relax. The warm seas and hot temperature will soon put you in vacation mode! Lots of room inside and out to sit on the deck, eat outside or rest in a hammock, listening to the gentle waves, on the dock. You can even sit up near the roof to be part of the parrot chatter. The bowling alley across the road is a throwback from the 50's and makes excellent pizza. Martin & Diana (caretakers) will take good care of you, if you need help with anything. If you get a chance to snorkel, I highly recommend it.      -----Stayed: March 2014: A FlipKey verified reviewer Rockwood
Peaceful oceanside house
A fully equipped 3 bedroom house & dock with room for 5 adults. Caretakers Martin & Diana were like having our own concierges. 10 miles outside of Placentia so a golf cart or car is really required. We rented a car & were able to tour to Maya ruins & the ATM cave (really the highlight of the trip). Disappointed in the quality of swimming off the adjacent beach & shocked by the amount of garbage washed up on the shore (Martin was out raking up the debris everyday)         -----Stayed: February 2014: A FlipKey verified reviewer Penticton
Perfect!
Three couples; so many magical places in that house but by far my favorite was the pier - probably helped that we hired two massage therapists to come out to the house to do them... (have to add that to my one other most amazing thing to do or see on a vacation, the first was Monsal Head in Derbyshire, England). Diana and Martin are very helpful and keep the house all tidied up. Loved the paddle boards and the beach!        -----Stayed: February 2014: klfraser11 NV
Beautiful Casa Beya
Six of us, three couples all related, spent a wonderful week in Casa Beya. The beautiful breezes you feel on the porch are unbeatable. We cooked, kayaked, swam, walked and just hung out on the beach. So great, we're going back next year!         -----Stayed: January 2014: Nancy NY
Perfect family vacation home
We're sitting here on the last day of a wonderful family vacation...and do not want to leave.
Our home base the last 8 days has been Casa Beya and we could not have picked a more perfect location. The house is comfortable, spacious and beautiful. As with most vacation rentals some of the items in the home could stand to be replaced/upgraded - toaster, pans, futon - but beyond those minor details, this house has served us well. There are many gathering places, as well as many places to steal some privacy. The beach is lovely, the water in front is beautiful (although it's been windy and choppy all week), and the whole house is screened allowing for refreshing breezes. The caretakers, Martin and Diana, took care of us perfectly all week - very, very nice people.
The house is pricy compared to some places here, but if you're looking for a house that will hold your entire family comfortably, it doesn't get much better than this.         -----Stayed: February 2014: Shannon O Edmonton, Canada
Had a great stay
This place was great. The beautiful beach and private. We would go back again in a second.     ---- Stayed: November 2013:Bill NC
Wonderful place to vacation with friends
On our third trip to Belize my husband and decided to try out a house rather than condo accommodations. We were joined part way through the week by friends who we normally meet up with at Captain Morgan's on Ambergris Caye. We were all impressed by Casa Beya and enjoyed our stay there. Mike, the housekeeper, was very friendly and helped us out with whatever we needed. We pre-ordered a few groceries which were waiting for us when we arrived. Mike also cooked us two delicious meals. We recommend renting a golf cart for trips to Placencia and for exploring the area. Unfortunately, the winds were high for our entire stay in Belize which made fishing quite difficult but that is out of anyone's control. Mike arranged trips for both deep sea and fly-fishing and the guides were able pick up at the dock right in front of Casa Beya. We would definitely return again, especially with a large family group.     -----Stayed: April 2013: SunFishSeeker Saskatoon, Canada: Trip type: Traveled as a couple 
Paradise!!!
Just returned from Casa Beya. Our stay Feb.25-March 11. this was our second trip to Casa Beya. We were a party of 6 including our 3yr. Old granddaughter. The water and sand were perfect for her. She loved it. The house is the perfect tropical retreat. Beautifully decorated to suit the area. Everything we wanted and more! Definitely worth returning yet again and again!         -----Stayed: February 2013: A FlipKey verified reviewer Rockwood Ontario
Heaven on earth - no better vacation house!!
We stayed a week at Casa Beya and our expectations were met and exceeded. The house is perfect, excellent beach and location. Best of all, Mike!! He made our stay perfect! Perfect food, perfect tours, perfect weather. Need to go back!!!        -----Stayed: February 2013: Micahel NY
Dream Vacation
I recently traveled to Belize with friends and we stayed at Casa Beya - it was wonderful!!! The house is beautiful, beach front and situated on what truly feels like your own private piece of paradise.
Mike was wonderful to us throughout our stay, taking care of everything and arranging some extraordinary excursions.
I would highly recommend Casa Beya!!! I hope I have the opportunity to return!!!      -----Stayed: February 2013: A FlipKey verified reviewer Rochester
Paradise on the beach
Wonderful location, Mike the caretaker very helpful and informative, access to local and well informed guides, owner and Mike very helpful with preplanning. Wonderful restaurants, bowling alley, and store are all within walking distance, use of kayaks and bikes provided.         -----Stayed: February 2013: Mr. Smith NY, USA
perfectly relaxing
Great house! Comfortable, quiet, peaceful, direct access to our own private beach. Well kept up, clean, home away from home. Small market a 10 minutes' walk away, with several restaurants close by. Mike was very helpful and accommodating. Not a 'touristy' place, very laid back. Great for water activates. Shopping is not cheap, and it's limited, but wasn't there to shop. Loved the location of Casa Beya, loved the peaceful days and nights!!        -----Stayed: January 2013: A FlipKey verified reviewer Knoxville
The perfect get-away
This was the perfect get-away from it all. Loved the secluded, private feel. It's the ideal location to get it away from it all and really relax.         -----Stayed: January 2013:  Patricia Ines TN
Great Place to relax!
Had the best time at Casa Beya. It was a great place to unwind and relax. Private and quiet. Would recommend this for a girls vacation. Mike was great and very accommodating and got us whatever we needed! We are already planning to rent this beach house again. Not in a real big tourist area, but it was perfect for our needs. Everything you need is either within walking distance, or was easily to get. We couldn't have asked for a better place to relax.        -----Stayed: January 2013: A FlipKey verified reviewer Loveland
As perfect as the pictures!
The house is just perfect and just as described and in the pictures. Kitchen was stocked with groceries we asked upon arrival which was so nice to wake up and be ready to cook breakfast. We rented a car and drove from Belize City which was fine I just do NOT recommend doing it at night. Some roads were fine, but no dividing lines very dark and nothing open if you encounter problems. The weather was not good when we were there very windy and lots of seaweed and trash, but our last day we could finally see how amazing the water was and I took one of the kayaks out for a spin. We also used the bikes to ride to marina for breakfast. They are definitely better for shorter rides as it states. We did not do any excursions because of the weather. The Bonefish Grille was actually our favorite restaurant with the Bistro being second. The food was excellent and exceeded my expectations.                               -----Stayed: January 2013: melindajirwin Oklahoma City: Trip type: Traveled as a couple
Fantastic!!!
Could not have asked for a better home away from home! Please take care of Mike when you stay. He is wonderful!          -----Stayed: December 2012: McDanielFamily AL
Serenity, practically our own private beach area!
We stayed at Casa Beya for our honeymoon. It was very romantic, and Belize is absolutely beautiful! We were there in the low, or "rainy" season. However, the weather was great (it only rained at night), and it was not at all crowded.        -----Stayed: September 2012: scalfhr KY 
Amazing Beach House
This is just what we needed... A cozy beach house close to everything we wanted! Casa Beya was perfect for adults and kids, lots of things to do both at the house and surrounding area, water was refreshing and shared the local neighbors with us (manatees, crabs, sting rays, etc), nearby Bistro restaurant was great food when we wanted to venture out, and town was exciting to walk through and feel more local!
Owner was wonderful to work with in setting up our stay and the caretaker was great - always there when you needed him, and never "part" of your vacation!  We will definitely return - it's a paradise!                 -----Stayed: August 2012: A FlipKey verified reviewer New York
Paradise has an address...
We (5 adults: 2 couples, 1 single) stayed for 2 weeks in this beautiful house. It had everything we needed and the location was great: right on the beach, only a few minutes´ walk to a very good restaurant (Bistro at Maya Beach Hotel) or the next grocery store and a short drive to Placencia.
The house is lovingly decorated and well-furnished and Mike, the housekeeper, is most helpful and friendly. We loved all the different decks, the daybed, the boats and, of course, the hammocks under the palapa of the wonderful dock.        -----Stayed: June 2012:  Tamara Germany
Paradise has an address!!!
Casa Beya is amazing! A wonderful, peaceful, delightful space. Perfect location if you want a beach base (as we did) and 1-3 hours drive to all inland wonders - Jaguar Preserve, numerous Maya ruins, wildlife, rivers, caves, uuuhhh!!! so much! A rental car is probably your best bet, but there are buses all over. A nice little market is within walking distance for groceries. Casa Beya is most definitely a good value for your $$. Mike, the caretaker is a treasure - super sweet human & can help you with anything. Magnificent experience!!!                                    -----Stayed: June 2012: KAREN - USA MD
Wonderful Experience!
My friend Jeremy and I stayed in this beautiful home for our week long trip to Placencia, Belize. I have nothing but great things to say, as we had the time of our lives! The home was so bright and charming, Mike (the caretaker of the home) was very friendly and helpful, even though we didn't use him much. We had a blast taking the kayaks out to the Mangrove island off the coast and spent the mornings drinking coffee in the hammocks on the pier. So amazing to wake up to the sun rising over the water and be able to walk out onto the semi-private beach. We really liked that the house was a few miles from the actual town of Placencia because it was more peaceful. Thank you so much Midge and Mike for making our stay so memorable. If given the chance, we will definitely be back!!!       -----Stayed: May 2012: Heather CA
Great place for a group stay
House was beautiful, the dock was great, we used it every day, comfortable. Had everything we needed and Mike helped us out whenever we needed it!         -----Stayed: May 2012: MandyLou Ca
Awesome beach home in Belize!!!
Fantastic place! Great location right on the Caribbean Sea with a private dock over the water. House is very spacious and comfortable, and Mike the caretaker is incredibly helpful. Very safe, secure location with wonderful scenery each and every day!!!         -----Stayed: March 2012:  Chris H CO
Ideallic
Casa Beya was an incredible trip for my family! We traveled with two grandparents, myself and my husband, and our two sons. We also had my sister join us for a week with her fiance. The house was comfortable with plenty of different living spaces when you take into consideration all of the different outside areas. We enjoyed sleeping on the hanging bed, lying on the hammocks, and playing in the gorgeous water!
During our time at Casa Beya we were able to experience the water in many different ways! Playing in waves to floating on "smooth as glass" water, it was always a pleasant temperature!
Mike was great and very comfortable to be around! This was our first time ever staying in a place with a live in house keeper and it was wonderful! He helps you set up plans and works around your schedule to find out how he can be most helpful!
We'd be back as quick as any plane could take us if reality didn't have such a pull on us at home!         -----Stayed: March 2012: Jes CO
Perfect vacation home
We really enjoyed our stay at Casa Beya. The home has a lot of charm and so many wonderful patios, porches, other lounging areas. We loved spending time on the dock in the hammocks, watching all the sea life swim underneath.
Loved the amenities that come with the house, the kayak for paddling out the the cayes, snorkel masks that kept my nephews entertained, board games and internet access!
Mike, the caretaker, was wonderful and helped us to arrange car rentals, day trips, airport drop offs, and even made us a delicious dinner one night!  Can't recommend Casa Beya enough!                    ---------Stayed: March 2012: Jen R CO
Perfect Location on the Beach!
We had a fantastic time staying at Casa Beya. We planned our vacation around the dates the house was available since the photos looked nice and we were glad we did. It was great to hear the sound of the surf right outside and there was always a nice breeze that we never needed to use air conditioning. The hanging bed outside on the deck was perfect for relaxing and an afternoon nap!
Be sure to try the Bistro at Maya Beach Hotel (a short walk up the street) for an excellent meal or two. Jaguar Lanes across the street is a fun place for bowling too! We can't wait to go back!     -----Stayed: February 2012: Edgar M C Virginia
Fabulous vacation!
We stayed for a month at Casa Beya. There were anywhere from 5 of us to 8 us. What a great time we had. The house was very comfortable, right on the beach, a hotel w/pool just a few minutes walk away. It was great to have an onsite caretaker/security guard/activity director/chef--thanks Mike!      -----Stayed: March 2011:  Kerri CO
Fabulous!!!
We loved Casa Beya! It's everything the website says and more! The beach, the flowers, birds, location, house, colors...everything!! Mike (the wonderful caretaker) did exactly that...he took such great care of the grounds, the house and us!!!        -----Stayed: January 2012: Anne ME USA
So beautiful and relaxing.
We had an amazing time here. House is beautiful. Beach and dock are wonderful. Highly recommend this place. Caretaker is extraordinarily helpful.         -----Stayed: December 2011: ErinRN12 CO
Casa Beya is for relaxation and fun!!
We had a group of six--three adults, one teenager and two children. The space was very adequate. We enjoyed swimming, kayaking, walking and bike riding. The house is great!      -----Stayed: December 2011: Joyce Huguelet NC
Storybook Honeymoon!!
Casa Beya was everything we dreamed of and then more! The grounds were clean, the house was beautiful and anything we needed was at our disposal. Mike was a key part in making our stay special. He went above and beyond to ensure we had a wonderful honeymoon stay!! We will be back next year and this time plan to spend our entire vacation at Casa Beya(spent 5 days in Placencia and 5 days in ambergris Caye). Already counting down the days!! Thank you Mike and Midge for your hospitality and amazing accommodations!       -----Stayed: January 2012: C&C Thomas TX
It probably could get better than this, but that would be quite rare.
No false advertising here! Everything was thoroughly detailed before we arrived and even better than we expected when we arrived. Mike the caretaker was wonderful, the scenery beautiful, and the location great. We can walk to many activities, stores and restaurants and found the neighborhood to be safe & peaceful. They call this the off season but that enhanced our time here (fewer crowds, a little rain shower now and then kept things cooler, and the land was even more laid back).
If the A/C in two of the bedrooms worked better (they worked, but couldn't match the heat of the weather) and if the kitchen was a tiny bit more equipped, you may not have believed our review because it would have been nothing but flattery. This place will make you experiencing Belize so much easier and affordable. Check it out. We recommend it.       -----Stayed: July 2011: pjmoen La Mesa, California
Great!!
We had a great time, the house was very comfortable. Being close to town and other needs was great.The beach and dock were great fun so nice to walk out the door and be there. The house was very clean and well taken care of. Mike was very helpful, and so nice to deal with. He helped us set up a dive trip and the cave tubing. He was always checking to see if we needed anything. The water was the only draw back and I understand that is not always in Mikes control. Would come back again.         -----Stayed: April 2011: Karma AZ
Tranquility with a view
A wonderful, quirky house with a good feel to it - and right by the ocean with it's own beach and dock.The house has all the amenities needed - including internet and is comfortable and well-appointed.
Ideal for relaxing with a good selection of restaurants within walking distance. Mike the caretaker is excellent and unobtrusive but on hand when you need him!     -----Stayed: February 2011: Carol & Brian UK
An absolute Idyll
We loved Casa Beya. The house is adorable, cozy but comfortable for four adults and three children, if you don't mind The setting is gorgeous, and lounging in hammocks under the palapa at the end of the dock was heavenly. The water is ideal for children (youngsters in our group ranged from 6 - 9 years old) in that it is warm and shallow enough for kids to stand well past the dock. An occasional wind drummed up some chop, which was fun for bouncing (though not enough of a swell for body surfing when we were there). The Maya Beach Hotel is less than a five minute walk from Casa Beya and hands down serves the best food in Placencia. We did everything from early morning sea-kayaking, Hobi Cat sailing and snorkeling, to hiking and river tubing at nearby Jaguar Paw. Casa Beya and Placencia offered the perfect balance of relaxation and adventure. The only downside of the whole experience are the sandflies--but if you're prone to bites you can load up on repellent and be okay. This was by far the best vacation we've ever had as a family. We had a wonderful guide on our excursion up the Monkey River, who helped us spot (several times) a Manatee cow and her calf in the open sea. The Belizean people were warm and helpful. For dinner one night, Mike, Casabeya's caretaker, prepared the most delicious chicken dinner.
Many thanks to our gracious hosts, Midge, Aaron and Bodi for all the great recommendations. Our Belize vacation was an extraordinary experience. We're already planning our next trip!      -----Stayed: March 2011: A FlipKey verified reviewer Basalt Colorado
Perfect combination of sea, jungle & adventure!
Casa Beya is an exquisitely designed home that encourages indoor/outdoor living with such thoughtful touches as a foot sprinkler at the bottom of the stairs to keep sand out of the house, a dock with chairs and hammocks extending out into the sea, an outdoor shower (which we used all the time), and a lovely balcony with comfortable chairs and tables for reading, painting, or just enjoying the almost surreally beautiful vista of the ocean, beach, palm trees, and flower-filled garden.
Casa Beya also served as the perfect jumping-off point for snorkeling and diving adventures, sailing, river trips, ruins tours, and jungle exploration. In the jungle we saw howler monkeys, parrots, and the infamous fer-de-lance snake, and in the ocean parrot, lion and puffer fish, stingrays, colorful coral and manatees. It was a perfect adventure for kids and adults alike--we can't wait to come back!         -----Stayed: March 2011: Karin Teague Colorado USA
Wonderful snorkeling
We had a lovely vacation. Not everything in the house was working properly. There was heavy traffic and noise on the road behind the house. Ants everywhere.
The beach was cleaned the first day we arrived, it was not tended to again through the week.
The snorkeling was beautiful. We loved the remote location.       -----Stayed: April 2011: A FlipKey verified reviewer Minnesota
fun, happy, relaxing and beautiful
contact with Midge before booking was smooth and she was very helpful with travel tips. we all enjoyed our stay. perfect house layout and so nice to have a piece of beach. to be able to kayak to an awesome snorkel spot was a nice bonus. lots of easy "walk to" places to dine and grocery shop. wish I had some mixing bowls when cooking but the pots worked just fine. the speed bump noise with the cars and trucks gearing down and up kept me up at night but i am a very light sleeper. mike (caretaker)and family could not have been any nicer or more helpful. we would rent the house again if opportunity presented itself.     -----Stayed: January 2011: A FlipKey verified reviewer st. simons island
Clubhouse for adults
Do you remember the kid down the road from you when you grew up that had the coolest clubhouse? We'll I think he may have grown up and moved to Maya Beach to build this place.
Casa Beya is a wonderful place for vacation. From the multiple outside sitting areas (9 if I remember correctly, the roof top deck is my favorite!) The amazing sunrises you can see, the island that you can kayak out to and snorkel around. The bowling alley across the street is probably the nicest bowling alley I have ever been to. It is like having your own private bowling alley in your backyard. And finally, there is Mike. He is the care taker for Casa Beya and lives down below the house. He is fantastic! From bringing up fresh water every day to making sure you are comfortable and making sure you have everything you could possibly need. He is truly a great asset. If you are looking for a great little house to get away then consider Casa Beya for your trip to Belize. You won't be disappointed.       -----Stayed: June 2010: Richard Texas, USA:  traveled with friends
Best Beach House in Placencia
I have used VRBO for several years and have always had a good experience. This was hand down the best house I have ever stayed at. The location was perfect, the beach was amazing and kid-friendly and the caretaker was very attentive and helpful. And last but not least, the home was truly a work of art. My family and I definitely plan to visit again and I highly recommend this house for anyone looking for a relaxing and spectacular experience.          -----Stayed: January 2010
Beautiful house in Maya Beach
Casa Beya is absolutely a wonderful house. The details -from the really cool decorations inside everywhere you turn to the 3 level thatch covered porches covering the entire back of the house are fantastic. I loved the swinging outdoor bed! While we were there they installed wifi and cable for the TV which my son was thrilled about.
Mike, the caretaker, was always around if you needed something or had a question. At one point our son was not feeling well and Mike called the Dr. in town and he came out about an hour later. The charge for the house call was $35.00!  As far as groceries go, you can walk to the little convenient store which has more "American snacks" then the larger grocery in town.
We rented a car from Stann Creek Rentals for a couple of days and ended up keeping it longer just to drive around the country. Candy and Dave at the rental place were very nice and very easy going! They were also the cheapest! Our son loved to go "visit" Candy because they rent cars from their house and have probably a dozen cats and dogs and birds who say hilarious things like good morning Belize!
As far as food goes, we ate breakfast and lunch at the house which is fully stocked with every type of container or pan you need! We usually walked a few yards to the Maya Beach Hotel and ate there for dinner and late afternoon snacks. They have the best food I think in the Placencia area. Don't bother driving into town just eat there.
Overall we loved Casa Beya. It was really hot the week were there and only the bedrooms have a/C, so the living area where the TV is and the kitchen can get pretty warm. But you do have wonderful wooden windows that open all over the house that brings in breezes, it was just warm breezes that week! It would be the icing on the cake if Midge would A/C the living room area!
We will be back next summer! I think Belize and Casa Beya will be our summer trip every year!         -----Stayed: June 2010: A FlipKey verified reviewer Plano Texas
The Perfect Honeymoon!
We stayed at Casa Beya for the second week of our honeymoon in April. It was PERFECT! The ocean was clear & warm, the sand soft & clean, the dock breezy...The house was lovely & exactly what we were looking for. We will for sure be back & hopefully with some friends & family. We'd tell anyone to go there & we'll come along! Mike the caretaker was so helpful & friendly. The area is quiet & peaceful.          -----Stayed: May 2010: DJ WI
Wonderful Experience
Casa Beya is the most beautiful, unique house located in Placencia. While I was planning my wedding in the area, I looked at a number of rental houses and hotels. I am so happy that we choose Casa Beya. The photos of the house are wonderful and they live up to the real thing. Everything about our experience was wonderful. Mike the care taker and his family were the most accommodating, welcoming people. Midge, the owner of the house, was a delight to work with and gave me plenty of information about the area. My sisters are already planning their return with their little ones. I cannot recommend this rental property enough.        -----Stayed: March 2010: Stacy Gill Washington
5 days in Eden's Garden
Even the weather wasn't perfect, Casa Beya was a wonderful place….
…is a perfect place for relaxing and enjoying, with great regrets on leaving Casa Beya after 5 days of living in only. I strongly recommended the place to my best friends and the photos my daughter loaded on facebook were highly appreciated!!           -----Stayed: March 2010: A FlipKey verified reviewed
Paradise with a Bowling Alley
A great place in a great location (decent beach, close restaurants, markets, and -- who would guess? -- a bowling alley). Great house staff (Mike). Beautiful house, lots of thoughtful details. The only nit to pick: the bikes that were provided could use an overhaul.          -----Stayed: April 2010: Mike from Piedmont CA
Perfect Beach for Families or Couples
We rented Casa Beya and Seagrape Escape for a family get-away. Everyone enjoyed our choice. Both houses are charming and beautifully decorated. Fully equipped spacious kitchens. Super clean! Great bathrooms and fun porches complete with swinging beds. Location is convenient to several good restaurants, markets and Placencia village. Road is paved! Lots of outdoor gear provided, making the house a great deal. Large quiet beach spaces with plenty of seating and hammocks. We loved kayaking to False Caye for snorkeling. The on-site caretaker is a bonus. We would definitely recommend this rental, especially if you appreciate quiet and privacy.        -----Stayed: April 2010: Travel Junkie Wyoming
Sweet little flower of a place; lovely, laid-back and oh-so-welcoming!
Such a treat, such a haven! Lots of play in the serene ocean that was 84 steps from our door. Loved our comfortable, colorful environs' - everything we needed was there…really felt at home! I will not forget the different faces of the ocean with early, mid-day and moonlight swims, the huge bougainvillea on the porch, the fun snorkeling (stingrays!), great dinner spots (nice, but without tourist hype) and all the love, mon!         -----Stayed: January 2010: Lily White Dolphin Girl CO
Perfect Beach House and Property
We stayed at the Casa Beya for ten days and had a wonderful time. The beach in front is idyllic and the water shallow and warm. The house is beautiful, comfortable and has everything you need - ample towels, beach stuff, sea kayak (fantastic to kayak out to the nearby island and snorkel), kitchen supplies, music, games etc. We loved the huge wraparound porch and the swinging daybed. The breezes off the sea meant that we were barely
bothered by bugs at night and never did it get too hot. The bedroom on the third floor was magical with its own porch overlooking the sea. The downstairs bedroom was also nice, but the window faced the road (which is behind the house) so you do hear the cars/trucks driving by in the morning .
Mike, the house and groundskeeper, was so nice and friendly and took care of everything we needed, even going to pick up food and supplies for us, and cooking dinner for us one night. The house and beach was cleaned every day, which meant that we could enjoy the beautiful beach as much as
possible. You do need to have a car to stay here, since the town of Placencia is a 20 minute drive down the road. We were down in Belize for a private wedding which we held at the house, on the beach dock and palapa (the perfect place to get married I must say, surrounded by water and the sea
breezes!). We were put in touch with Lee and Fiona at the Secret Garden in Placencia, who made all of the wedding arrangements. They were extremely attentive and their rates were very reasonable. They took care of everything – paperwork, food, beverages, the JP, decorating the dock and house
with tropical flowers for the small ceremony, arranging the photographers and they even gave the girls massages on the porch the morning of. Food in Placencia was great, as was the food at the Maya Beach Hotel nearby. We went diving a few times on the reefs and that was beautiful as well. We loved the house and the property. Wouldn't change a thing and hope we can return soon!            -----Stayed: April 2008: kv Canada
Relaxing
Our family had a great experience at Casa Beya, the house had everything you needed and more. We were able to enjoy walks on the beach daily, seakayaking, relaxing on one of the decks at the house. We also got out and explored the area, we had a message at one of the hotels nearby, my husband went diving with Whale Sharks and we ate out several times and got to enjoy great local meals and the friendly culture. We would go back to the area but only if we could stay at Casa Beya, it is a very special place.         -----Stayed: May 2007: A FlipKey verified reviewer Aspen
Best Time
We had found the stay at the house very enjoyable. To be very honest with you, we were a little hesitant to stay in a house, in a different country, due to the fact we always stay in a resort, in which a resort is considered a safe environment. We definitely found this vacation one of the best times we have ever had. We found the house to be super comfortable. The caretaker of the house, Mike, made us feel very much at home and made our time seem more relaxing and enjoyable. We would definitely recommend this house to others who would like to have a fabulous vacation like ourselves. Thank you and God Bless for providing the most beautiful vacation and home during our vacation.         -----Stayed: November 2009 --- Shannon Smith North Dakota: traveled with family
Perfect 40th Birthday!
This property was the ideal getaway for my 40th birthday extravaganza! It comfortably handled all my friends, and we had such a great time pretending it was ours for 2 weeks. So many rental houses lack character and good design skills, but not this one, it was perfect. The area was friendly, yet secluded, would return in a heartbeat.         -----Stayed: November 2009: A FlipKey verified reviewer Chicago
A Treasure
Midge, You have created a treasure with all of your special touches! The perfect vacation property for a beach getaway to a cultural experience. Thank you so much!      -----Stayed: March 2009: Dawnette Overbo Co
Casa Beya was great...
The house worked perfectly for the three us, my two daughters and I. It even came with its own knowledgeable guide and house keeper who lived
downstairs. The private beach out front had a resident pelican and heron. We tried many side trips to various rain forests and adventures. My daughter tried
the termites, "yum" she said. Howler monkeys, tapir tracks, panther tracks, swimming up rapids into the stygian darkness of Mayan caves, rock sliding
back down, visiting Mayan ruins, exquisite snorkeling in crystal waters with huge rays and sea turtles. The food was great in many of the local restaurants
and at the Maya Beach hotel. Generally a memorable vacation.       -----Stayed: March 2009: A FlipKey verified reviewer Toronto
Kayaking at sunrise
Absolutely the best things about this place is the expanse of well-maintained beach and the dock area. Being able to walk down the stairs, grab a kayak and go was wonderful. The kayaking is interesting and safe, as there are few boots around, unless you venture farther away from shore. We did go over to the little cay out in the bay and even then I had no concern about boat traffic. The sunrises were spectacular and any time of day the water was beautiful. There are plenty of great places, sunny and shady, to hang out, both on the porch and out on the beach. The house is very nice as well, well-equipped, bright, and funky in a very nice not kitchy way. Beds were comfortable and bathrooms clean and cute. The caretaker, whose name I should not have forgotten, was great. Not in the way, but available for any concern or request. Having the Maya Beach Hotel so close was a bonus. Pool available for those times you want freshwater, good food and beer, and friendly resources for information, tours, etc. Casa Beya would be a fun place for a family with children of pretty much any ages. The only problems I had with it were the travel - I suggest flying in, as the road trip from Belize City was time-consuming and draining, and the location right off the road. This is such a narrow peninsula, the latter is kinda unavoidable, but it made it too dusty to have the windows facing on to the road open until traffic died down, and the noise of the trucks in early AM was a bit irritating for us light sleepers. There's always the AC to cool you off and cut the noise, but I personally like the breezes. All in all good quality for the money.     -----Stayed: April 2009: JC MD: traveled with friends
Delightful!
Casa Beya is a delightful "funky-pop art" kind of beach house...clean, fully equipped, very comfortable, well situated for easy access to amenities of the peninsula. Rooms are spacious and decorated in a warm and charming manner. A roof deck on top of the house affords a 360 degree view of the sea and mountains. Mike, the caretaker was a wealth of information and was there for us when we needed him. Meals at Maya Beach Hotel just down beach were 5 star!      -----Stayed: March 2009: K. Dick Ontario